Ockham's Razor bring a new full length production Tipping Point.
Set in the round, the audience drawn in close, as five performers transform simple metal poles into a rich landscape of images. Poles are balanced on fingertips, hung from the roof, lashed, climbed, swung from and walked along, they become forests, cross roads and pendulums. The performers balance, climb and cling, supporting each other as they wrestle with the moment when things begin to shift. They must decide whether to rail against the chaos, struggling to exert order on a disordered world or ride it out; allowing life to tilt towards the tipping point.
Tipping Point features a multi-layered surround sound musical landscape especially composed by Adem Ilham & Quinta who have previously worked with Radiohead, Hot Chip and Bat For Lashes.
Physically thrilling
Daring aerial theatre
Produced by Turtle Key Arts. Co-commissioned by London International Mime Festival and The Lowry, Salford Quays. Supported by Dance City, Harlow Playhouse, artsdepot & Lincoln Drill Hall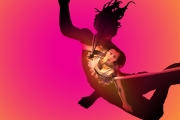 Spectacular circus under a brick Big Top CircusFest 2016 is back with three weeks of the most spectacular and extraordinary international and UK contemporary circus. The festival features major…
Essential Info
This event takes place at artsdepot, 5 Nether Street, Tally Ho Corner, London, N12 0GA.