Directed by acclaimed director and performer Sakari Männistö (Gandinis) Sceno is a display of skilful acrobatic movement, strongman tricks and juggling, framed with live music and video.
It's about the beauty of human capabilities, the things we can do and the things we fail to do. By turns mischievous, daring and funny, Sceno is a joyous new work from the acclaimed young Finnish company.
This event is part of SIRKUS: New Work from Finland
Three exclusive premieres of new Finnish circus, supported by Circus Info, The Finnish Institute in London and Jacksons Lane
Supported by Cirko – Centre for New Circus, Arts Promotion Centre Finland, Finnish Cultural Foundation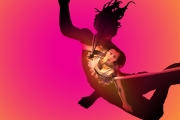 Spectacular circus under a brick Big Top CircusFest 2016 is back with three weeks of the most spectacular and extraordinary international and UK contemporary circus. The festival features major…
Essential Info
This event takes place at Jacksons Lane, 269a Archway Road, London, N6 5AA.