Having explored the colour yellow in The Yellow Show, the sky in The Sky Show and faces in The Face Show, award-winning York-born writer and performer Rob Auton now turns his attention to water. The Water Show is a new comedy-theatre about water suitable for anybody who has seen, heard, touched, used or drunk water.
Charming, eccentric and uplifting, Auton is a talent to watch.
A genuine original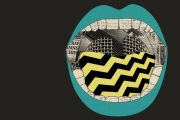 A two-week festival of spoken word, live performance and storytelling.
Essential Info
*Fees are £1.95 per transaction