An opportunity to see new work being scratched and developed in the atmospheric and chilled setting of our Living Room installation.
KID GLOVE: DEAR ADVENTURE, 1.30PM
Kid Glove are bored. Bored of commuting, bored of working, bored of drinking, bored of love. They're looking for Adventure, have you seen him?
The former Roundhouse Poetry Collective – Kid Glove are developing their first ever spoken word show Dear Adventure a love/hate letter to a man called Adventure.
Roundhouse Resident Artists Kid Glove write about adventures, internal and external, questioning how journeys affect the body and stimulate memories. Come and hear stories they are developing.
GROWIN' PAINS BY TOM GILL, 2.30PM
Trapped in a small town on minimum wage and full of pent up rage, Tom trades in his life for a train ticket to London where a chance meeting with the new girl at work helps him to grow in a way he didn't think was possible. But with unfinished business still haunting him at home, Tom needs more than a young person's railcard and a bag of magic mushrooms if he's to find redemption…
A new spoken word musical by Tom Gill combining elements of rap, physical theatre and poetry.
FINDING HOME BY CECILIA KNAPP, 3.30PM
Along the cycle paths, alleyways and canals of London comes a spoken word theatre coming-of-age story that maps the journey of a young girl from Brighton to the tenements of East London as a 20-something.
Written and performed by Roundhouse Resident Artist Cecilia Knapp and directed by Stef O'Driscoll (A Tale From A Bedsit, Hopelessly Devoted) Finding Home is brought alive through an evocative collaboration of words, beat box and classical vocals and instrumentals.
A CITY OF FOXES BY BECCI LOUISE, 4.30pm
This is the story of a British-Indian teenager and an ageing white woman living on the outskirts of London, who strike up a dysfunctional friendship and struggle to adapt to each other's ideas about identity and Britishness. A City Of Foxes is performed by Roundhouse Resident Artist Becci Louise and directed by Felicity Wilson.
FAT GIRLS DON'T DANCE BY MARIA FERGUSON, 5.30PM
It's that funny time in between Christmas and New Year. I'm still full from the meat and stuffing I've been cramming in for days…but I keep reaching for the bowl of celebrations and rooting through the cupboards for cashews. Don't get me started on the cheese…alright do…
Resident Artist Maria Ferguson explores her relationship with the F word* with the help of her first love**.
Come see her remember, reflect and bust some serious moves. There will be cake.
*Food
**Dance
More about Roundhouse Resident Artists:
Our Resident Artists Scheme contains some of the most exciting emerging creatives in London, including cabaret and spoken word artists, circus performers and a wide range of bands and DJs. We're proud to offer them support and progression opportunities whilst helping audiences discover fresh talent.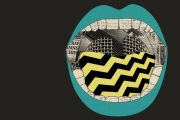 A two-week festival of spoken word, live performance and storytelling.