Choosing cheap loo roll, wearing shoes that rub, pretending you're in love.
Squeezed between tight jeans, jenga block flats and dinosaur ham, a young woman is making bad decisions and an old man is eating too much cheese. They're sharing biscuits on an inflatable sofa, something has to pop.
Fast, physical and full of anarchic poetry, shards of life collide in this powerful story of punishment and rescue written and performed by Sophie Rose.
Bold, brave and very special
Evocative, unflinching and very funny
Our Resident Artists Scheme contains some of the most exciting emerging creatives in London, including cabaret and spoken word artists, circus performers and a wide range of bands and DJs. We're proud to offer them support and progression opportunities whilst helping audiences discover fresh talent.
Co-produced by Roundhouse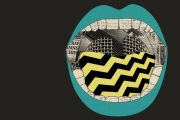 A two-week festival of spoken word, live performance and storytelling.
Essential Info
*Fees are £1.95 per transaction