A one day masterclass for advanced writers and performers of poetry with the award-winning poet, playwright and performer Inua Ellams.
Who am I? Why do I write? What makes me different from other writers? Why do I write the way I write? What is the way I write? How can I better write like myself?
If you've ever asked yourself these questions, this workshop is for you. Filled with practical tips and exercises, Inua will guide you through answering the important questions, questions he regularly asks himself.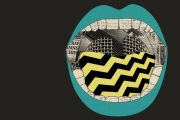 A two-week festival of spoken word, live performance and storytelling.
Essential Info
*Fees are £1.95 per transaction
Suitable for ages 16+