So, you wrote a bad poem, did you? Ah well. Every writer makes mistakes. Now pick the pen up and write some more.
A very respected writer probably said something like this once and it's something that Mark Grist and Tim Clare have taken to heart.
In this workshop you'll be looking at the importance of mistakes and learning to counter the debilitating dread that comes with making them. Working on your own or in pairs you'll be creating original pieces of poetry and performing them to the rapturous (if forced) applause of your peers. Now suck it up and get on with it!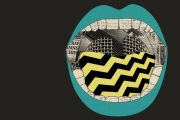 A two-week festival of spoken word, live performance and storytelling.
Essential Info
*Fees are £1.95 per transaction
Suitable for ages 16+