The highly-anticipated first play by award-winning poet and spoken word artist Polarbear aka Steven Camden is a must-see coming-of-age story that's both incredibly funny and insightful.
Luke, Zia and Tommy have known each other forever. With Luke about to leave for university, it's time for one last adventure together. Armed with Zia's mix CD and a bag of Brummie pride, they set off to conquer Snowdon. But when things take an unexpected turn, they're forced to face up to the reality of why they needed the trip in the first place.
Stay tuned after the performance and join us for a post-show talk with Steven Camden, Director Tessa Walker and the cast Waleed Akhtar, Sam Cole and Lawrence Walker.
They will be taking your questions about making the show, touring to non-theatre venues, making a career in spoken word and theatre and some of the issues raised within the show
Join the discussion and tweet your questions now or on the night to #BackDownUK
It's a little like The Inbetweeners, but sweeter…Camden's language is irresistibly vivid
Fast-paced, savvy and funny
An exuberant and effective debut
Presented by Birmingham Repertory Theatre Company in association with the Roundhouse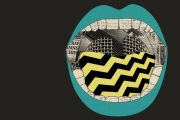 A two-week festival of spoken word, live performance and storytelling.