A night of eclectic global spoken word in a range of mother and other tongues in this unique collaboration between Cape Town's InZync and London's Chill Pill.
InZync Poetry Sessions have been continuously pushing the boundaries with their multilingual poetry and musical nights since their inception in 2011. They platform a melting pot of poetry and stories delivered in the mother tongues of poets including Afrikaans, Xhosa, English and Afrikaaps.
Chill Pill curate laid-back club nights where up-and-coming poets share the stage with some of the finest spoken word acts. They mix it up with tightly spun tales inspired by topical headlines, classic poetry and plenty of banter to boot.
This production is part of:

Call to Create is a global collective of cultural organisations that believes it's time to shout louder about the great art young people make. Across 2015, we're celebrating young creativity in a season of multi-discipline performances, events and moments around the world, co-created by young people and established artists. Find out more
Supported by the British Council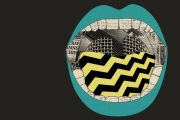 A two-week festival of spoken word, live performance and storytelling.
Essential Info
*Fees are £1.95 per transaction