We'll be broadcasting Roundhouse Rising 2015 live via Dailymotion. Tune in and discover new music.
Join emerging artists FTSE, Jagaara, Grace Savage and Rayon Nelson live on Monday 16 February for the first night of the festival, presented by music agency 13 Artists.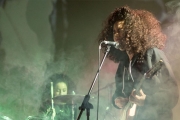 Our annual festival of emerging music returns with an exciting line-up of live music plus industry masterclasses, panels, workshops and creative projects.