Join the conversation with our series of live broadcasts direct from this summer's hottest installation – Utopia by Penny Woolcock.
An evening of utopian propositions, ideas and performances hosted by poets Michelle Madsen and Angry Sam.
The evening will feature Marina Prentoulis from Syriza London, Sirio Canos Donnay from Podemos London, columnist and writer Owen Jones, writer Anthony Anaxagorou performing with pianist Karim Kamar, feminist Sarah Day from Sisters Uncut, Amina Gichinga from Take Back the City, campaigner and researcher on policing and institutional racism Adam Elliott-Cooper, Camden Green Party councillor Sian Berry, performer and poet GREEdS (Generating Rhymes to Engage the Enlightened Soul), migrant rights campaigner and community organiser Tatiana Garavito, and Penny Wangari-Jones tackling racial and social injustice.
Utopia live broadcasts are brought to you by participants of the Bloomberg Broadcast Programme – the Roundhouse's fast-track film course for young people not currently employed, in training or education.
Programmed in partnership with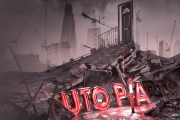 A place where your voice, normally drowned out by life's pandemonium, can be heard. ★★★★★ The Times Award-winning filmmaker, writer and artist Penny Woolcock has taken over our M…