Penny Woolcock presents an evening of art revolution, celebrating the ideals and themes of the installation broadcast direct from this summer's hottest installation, Utopia.
Beginning from 8.30pm, Penny will be joined by singer, songwriter and anti-cuts campaigner Charlotte Church, spectacular neo-burlesque performer and clown Fancy Chance, performance poet Malik Sankara and One Mile Away's Zimbo, who will be performing accompanied by classical string musicians.
Utopia live broadcasts are brought to you by participants of the Bloomberg Broadcast Programme – the Roundhouse's fast-track film course for young people not currently employed, in training or education.
Supported by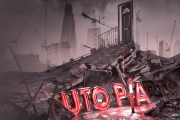 A place where your voice, normally drowned out by life's pandemonium, can be heard. ★★★★★ The Times Award-winning filmmaker, writer and artist Penny Woolcock has taken over our M…