Calling all Roundhouse Members!
Make your visit to There Will Be Blood that extra bit special with our exclusive pre-show members event on Thursday 7 August.
Join us in the Dorfman Hub, a hidden room in the Roundhouse directly below the Main Space, where you'll you'll be treated to an intimate pre-show talk from the creative team involved in the show, plus the opportunity to connect and network with the Roundhouse team and other Roundhouse Members.
If you're a member already, simply book your tickets and we'll automatically add you to the Guestlist.
Not a member?
What are you waiting for? In addition to getting access to a host of exclusive benefits including priority booking, access to our Members Bar, queue-jump and invitations to exclusive events, your membership fee will go directly towards supporting our work with young people.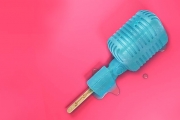 Every day this summer, we'll be playing host to an incredible series of live music, comedy, dance, spoken word, live cinema and more. An eclectic line-up of Main Space shows will be presented in …
Essential Info
Free pre show event for Roundhouse Members
Tickets for There Will Be Blood are £25 – £70 including fees of £2.50 per ticket and £1.50 per transaction.