Penguin Cafe's music has infiltrated daily life, from films like Napoleon Dynamite to countless theme tunes, while they've played major festivals and venues ranging from Bestival and The Big Chill to a sold-out Royal Albert Hall as part of the BBC Proms. Their sound is at once familiar and new, combining acoustic power and a beguiling, feisty charm.
Following a UK tour last year and performances across Japan and Australia, Penguin Cafe released their new album The Red Book in February. The second release from the freshly re-imagined Penguin Cafe is the culmination of two years' work that has seen Arthur Jeffes – son of original composer and Penguin Cafe Orchestra founder Simon Jeffes – investigate whole new areas of sound and vibrancy, alongside his eclectic collection of musicians and characters, marking an ambitious extension from their debut A Matter of Life.
A banquet of exotic fancies and food for thought… a mood music masterpiece
An intricate musical lattice…Jeffes Jr composes instrumentals of considerable elegance and ingenuity
Penguin Cafe continues to occupy a unique place in music: nothing else has ever sounded quite like it. Eccentric, charming, accommodating, surprising, seductive, warm, reliable, modest and unforgettable: it's a true friend
This is music that is designed with a real generosity of spirit
Jeffes' son, Arthur, is reviving the music and adding a little of his own with a nine-piece band featuring the unique mix of ukuleles, strings, percussion, electric bass and piano, and the unlikely blend of African rhythm, folk fiddle and classical cadences works its whimsical magic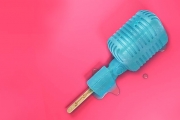 Every day this summer, we'll be playing host to an incredible series of live music, comedy, dance, spoken word, live cinema and more. An eclectic line-up of Main Space shows will be presented in …
Essential Info
*Fees are £2.50 per ticket and £1.50 transaction fee
Age restrictions: Under 16s to be accompanied by an adult, under 14s to be accompanied and in seated areas only
Latecomers will be admitted throughout
---
AGED

16-25?

A handful of tickets are available at just £5 each for GET IN members.

Already a member? Log in first then hit the button below.
STAGE TIMES
7pm: Doors open
8pm: Sam Semple
8.50pm: Penguin Cafe
Please note, stage times are subject to change without notice.