Our season of live broadcasts kicks off with a Roundhouse Rising summer special headlined by Andreya Triana, streamed online by Roundhouse Digital Productions.
Andreya is fresh from a UK top ten single, Everything You Never Had (We Had It All) with man of the moment Breach, which was championed by the likes of Annie Mac and Sara Cox well in advance of its release. Andreya has also gained great support from Mista Jam, Zane Lowe, Toddla T, and Skream & Benga. Last year Andreya was honoured as part Evening Standards Power 1000, a round-up of London's Most Influential People of 2013.
The live stream will feature Andreya alongside Roundhouse associate artists Jake Isaac and Phoenix Martins.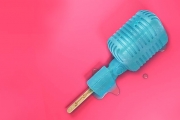 Every day this summer, we'll be playing host to an incredible series of live music, comedy, dance, spoken word, live cinema and more. An eclectic line-up of Main Space shows will be presented in …