Kid Koala is world-renowned as a virtuoso scratch DJ and music producer. He's also an award-winning graphic novelist – this unique performance, a blend of cinema, theatre and gig, brings to life his graphic novel Nufonia Must Fall.
Watch an amazing team of puppeteers bring the characters to life in miniature sets built to recreate each scene from the book. Under the direction of acclaimed production designer KK Barrett (Her, Where the Wild Things Are, Adaptation, Being John Malkovich), the performance is cinematically lit, filmed, and projected on a cinema screen. Kid Koala, accompanied by the Afiara String Quartet, performs his original score on piano and turntable. All of the elements come together in real time thanks to a team of twelve incredible performers and technicians.
She's a lonely office girl. He's an out-of-work robot struggling to find his voice amidst the noise of the city. Little do they know that destiny has programmed them for the greatest love story of our time…
Directed by K.K. Barrett
Featuring Kid Koala and The Afiara Quartet
Main image: sketch model for miniature set
Photo gallery courtesy of The Creators Project
CREDITS
Originally co-commissioned by Luminato Festival, and co-commissioned by Adelaide Festival, The Banff Centre, Internationales Sommerfestival Hamburg, Santiago A Mil, Noorderzon Performing Arts Festival Groningen and Roundhouse
Creator: Eric San (Kid Koala)
Director: K.K. Barrett
Set Designer: Benjamin Gerlis
Puppet Designers: Clea Minaker, Patrick Martel, Félix Boisvert, Karina Bleau
Director of Photography: AJ Korkidakis
Puppeteers: Clea Minaker, Félix Boisvert, Karina Bleau
Musical Score: Kid Koala
Musical Director: Vid Cousins
Musical Performers: Kid Koala and The Afiara Quartet
Producer: Ryhna Thompson
Tour Manager: Patrick Hamou
Production and Stage Manager: Olivier Gaudet-Savard
Sound Engineer: Vid Cousins
Video Editor: Ben Knight
Cameraman: AJ Korkidakis
Assistant Set Designers: Jeremy Gordoneer, Marie-Pier Fortier
Lead Modelmakers: Jeremy Gordoneer, Marie-Pier Fortier
Modelmakers: Maude-Emilie Bourque, Carla Gonzalez, Jesse Orr, Kyle Purves
Puppet Technical Designer: Patrick Martel
Puppet Builders: Clea Minaker, Patrick Martel, Félix Boisvert, Karina Bleau, Jesse Orr, Isabelle Chrétien, Christine Plouffe, Veronique Poirier
Research and Development: Félix Boisvert, Karina Bleau
String Arrangements and Additional Score: Vid Cousins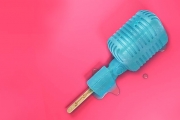 Every day this summer, we'll be playing host to an incredible series of live music, comedy, dance, spoken word, live cinema and more. An eclectic line-up of Main Space shows will be presented in …
Essential Info
Please note, Kid Koala will be on stage promptly at 8pm.
*Fees are £2.50 per ticket and £1.50 per transaction
Age restrictions: Under 16s must be accompanied by an adult, under 14s must be accompanied and in seated areas only
Latecomers will be admitted throughout
---
AGED

16-25?

A handful of tickets are available at just £5 each for GET IN members.

Already a member? Log in first then hit the button below.
STAGE TIMES
7pm: Doors open
8pm: Kid Koala – Nufonia Must Fall