Create your own digital instrument in this workshop using open source software to create a physical interface that triggers sound using touch.
You'll learn the principals of physical computing and sound design and will be able to take the finished project home with you, offering the chance to integrate your creation with existing musical technology. The project hopes to inspire further creation and exploration of the space where computing, code and music making meet.
This workshop will be run by Gawain Hewitt, a sound artist, music technologist and workshop leader who works in the space where technology, art and music combine. Gawain's background is in hip hop and dance music, having worked as a producer and engineer with artists such as TY, Amp Fiddler and Cibelle. Increasingly working with the building blocks of technology, his move into physical computing has led to commissions at City of London Festival and Spitalfields Festival, as well as leading on technology for the Animate Orchestra and heading up research and development for Drake Music.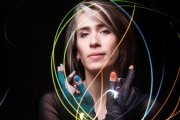 A 4 day festival curated by the Grammy Award-winning Imogen Heap
Essential Info
*Fees are £1.50 per transaction
Venue: New Media Lab
Suitable for all ages
Latecomers will NOT be admitted