What does the future look like for integrating musical instruments and technology? Musical pioneer, cellist and composer Peter Gregson gives us an insight into his work in generative technology and performance – bringing app developers, composers and performers closer together, and lightening everybody's suitcase of wires, cables, and boxes.
Peter is a cellist and composer 'working at the forefront of the new music scene' (The New Yorker). Recently, he has premiered works by composers including Tod Machover, Daníel Bjarnason, Joby Talbot, Gabriel Prokofiev, Max Richter, Jóhann Jóhannsson, Steve Reich, Martin Suckling, Milton Mermikides, Howard Goodall, John Metcalfe, Scott Walker, and Sally Beamis.
He also collaborates with many of the world's leading technologists, including Microsoft Labs, UnitedVisualArtists, Reactify and the MIT Media Lab.
Peter Gregson will also be performing his new album 'Lights in the Sky' at Reverb as part of Imogen Heap's One Man Band.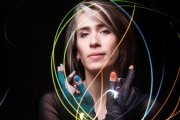 A 4 day festival curated by the Grammy Award-winning Imogen Heap
Essential Info
Free workshop suitable for all ages.