Electro Jam with Tim Exile and the Roundhouse Choir will be a spontaneous explosion of creative experimentation (and just a bit of fun!).
The innovation of musician and technologist Tim Exile will combine with the artistry and performance of our very own Roundhouse Choir to create an adventure in live acoustics and Tim's unique flow technology. We've no idea what it will sound like but we know you won't have heard anything like it before.
Come along, freak out, have a laugh and take part!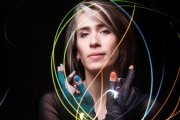 A 4 day festival curated by the Grammy Award-winning Imogen Heap
Essential Info
Venue: Torquil's Bar
Please note, this performance was originally scheduled to take place at 10.30pm in the Main Space