The London Contemporary Orchestra will perform an incredible programme of work including pieces by Howard Skempton, Delia Derbyshire, Edmund Finnis, and Kaija Saariaho.
Full programme performed by
LCO

:

Howard Skempton Lento
Delia Derbyshire The Delian Mode
Nick Ryan Synaes (world premiere, Roundhouse commission)
Edmund Finnis Between Rain (world premiere, LCO commission)
Kaija Saariaho Verblendungen
7pm – Klavikon
Leon Michener will open the evening with Klavikon, which re-imagines electronic music without the use of conventional processes using an amplified piano and found objects.
7.30pm – The Norwegian Girls Choir perform Ro-Uro
The Norwegian Girls' Choir will perform the UK premier of Ro-Uro, written by composer Maja S. K. Ratkje,. The piece focuses on war, peace, order and chaos through a collage of historic material and traditional Norwegian folk music and lullabies.
8pm – London Contemporary Orchestra & Nick Ryan perform Synaesthesia
In collaboration with ground-breaking visual artist Quayola & Sinigaglia, audiences will experience a new commission by multi-award-winning composer, Nick Ryan that centers around the theme of synaesthesia, a phenomenon whereby the five senses are involuntarily joined together. This performance will give audiences the opportunity to experience the sound of the orchestra being transformed live into a dramatic visual score through computational software developed for the piece.
Nick has also been collaborating with Jo Barratt at multi-sensory agency Vetyver to create scents that will integrate with the music performed by LCO, to make a truly multi-sensory experience.
10pm – Natures Reworked by Mira Calix, Oliver Coates, Quayola & Sinigaglia
The evening will close with a new exclusive reworking of Natures by Mira Calix, Oliver Coates and Quayola & Sinigaglia.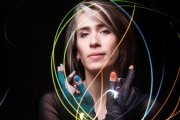 A 4 day festival curated by the Grammy Award-winning Imogen Heap
Essential Info
*Fees are £2.50 per ticket and £1.50 transaction fee
Tickets include entry to all performances
Under 16s must be accompanied by an adult, under 14s must be accompanied and in seated areas only
Latecomers will be admitted at a suitable break in the performance
---
AGED

16-25?

A handful of tickets are available at just £5 each for GET IN members.

Already a member? Log in first then hit the button below.
Stage Times
7pm – Klavikon
7.30pm – The Norwegian Girls Choir perform Ro-Uro
8pm – London Contemporary Orchestra
10pm – Natures Reworked by Mira Calix, Oliver Coates, Quayola & Sinigaglia