Talking machines, sound installations & more… welcome to Imogen Heap's Giant Interactive Sonic Playground – a set of inspiring, creative installations chosen by Imogen herself.
Imogen Heap's Listening Chair – 12pm-8pm
Share your secrets with Imogen by taking a seat inside her Listening Chair. Selected secrets will then be whispered by the Arboreal Lightning tree to random members of the Reverb audience (confidentially of course!).
Kathy Hinde: Tipping Point Installation – 12pm-8pm
Kathy Hinde's music merges machinery and natural stimuli to create stunning sound and visual aesthetics. Her music and visual art grows from a partnership between nature and technology. Tipping Point invites us to consider our relationship with water, and the necessity of balancing how we use the world's water resources.
With performances on 21 + 24 August.
Felix's Machines Triptych – 12pm-8pm
This installation showcases three interactive music machines performing rhythmic loops activated by sensors, where the loops are played at a range of tempos regulated by the varying proximity of an observer. These attention-seeking machines aim to demonstrate the effect the presence of a listener has on them by playing fastest when viewed up close, and slowest when nobody is nearby.
Helmholtz by Wintour's Leap – 12pm-8pm
A lattice of LED elements spaced throughout an exhibition space where the audience will see great waves of light travel across the room as the LED's are triggered by sound. Changing patterns of light and shadow give the sense of being immersed in a space sensitive to sound where even a whisper causes a stir, and loud claps invoke waves of light cascading across the room.
Featuring musical performances:
Aug 22 – 6pm-8pm – Tommy Ashby
Aug 23 – 6pm-8pm – Peter Gregson & Rael Jones
Aug 24 – 4pm – Sam Astley | 5pm – Graham Russ | 8pm – Sam Brookes
Musicjelly – 12pm-9pm
An inspiring and addictive interactive audio-visual installation following the principle 'everything you hear you see'. Choose your own musical adventure and experience all the improvising musicians, percussive dancers, vocalists and everyday noises Musicjelly has collected over the last three years. Mix & match them to compose music intuitively using interactive touch-screens and ambient projections and discover the artists, characters, locations and instruments behind each sound.
Find out more about the installations in the PROFILES tab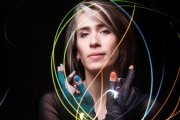 A 4 day festival curated by the Grammy Award-winning Imogen Heap
Essential Info
Open all day from midday (unless otherwise stated) – pop in whenever & wander the building
Free entry
Suitable for all ages