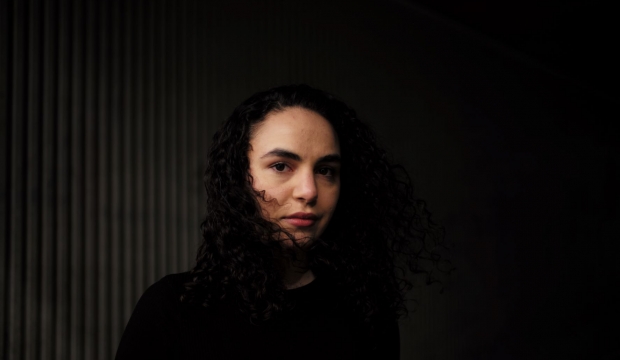 Stability
For some, stability comes in the form of a house. For others, it may be a job with contracted hours. But for me, growing up, I found stability by being with my mother.
I didn't have any fancy technology. But I did have a love for writing things down, pen to paper. I'm now 22, and this digital world seems so automatic and obligatory – but I'll always opt to write pen to paper. Finding myself in new and unfamiliar spaces meant I had to think of how I could bring my pen-and-paper way of creating to make something new. I would write down endless lyrics, neatly piling the pages next to my bed. I would form melodies, tapping my thigh to keep rhythm. And when I sang in the car, Mum would rate me out of 10. Although I never got 10 out of 10, it encouraged me to keep practising. Maybe one day…
Finding the Roundhouse
While we moved around London, I discovered the Roundhouse. It was somewhere my mother had gone with her brother Jack when she was a young punk, which gave me a warm feeling before I'd even walked through the doors at the age of 16, studying for my A levels.
It was only after joining the Roundhouse as a member that I found out I could book studio sessions for £2 an hour. I booked my first session, walked through the hallway and was shown to my room. When the door closed, I sat alone in silence for a little bit. It felt so calm and settled. I could vent and express without worrying about next door. I felt more able to sing, scream even, and nobody would ask why. I knew there was so much I could do with the facilities – the computer in my studio, the equipment in the tech room – but I just sat on the floor and wrote some lyrics. A cappella, I practised. That was enough for me.
The importance of place
Those Roundhouse studio sessions became a safe space. Simply having a room where I didn't need to stress, perform or even be productive was so refreshing, and it highlighted for me how necessary it is for young people to be able to escape uncomfortable spaces. The young people's workshops here also made me question new things I could learn without expectations.
The Roundhouse encourages young people to look beyond the graded papers that bring immense pressure. I plan to continue using these resources while I still can, bettering myself both creatively and personally. This truly is a place to explore, collaborate and grow.
Looking to the future
During the pandemic, I truly put my focus towards writing and promoting my content. I have always been writing about different chapters in my life, and how music has played a therapeutic role for me throughout. For the past few months, I have been getting my writing commissioned on different platforms. My published pieces have become more regular, meaning that I have become exposed to the editing process and the marketing strategies too. I have started to combine my love for writing with my passions for working with young people, and moving towards healthy social change.
Milli-Rose is currently studying Music at Goldsmiths University. Throughout uncertain chapters growing up, she found herself gravitating to the Roundhouse, the studio sessions were a safe space. Now, at 22 coming to the Roundhouse remains a safe space and she is excited to get involved in different ways – recently she has become a member of the Roundhouse Youth Advisory Board (RYAB), amongst many more things to come…