Karthika Naïr on #CultureNeedsDiversity: More Than a Hashtag, a Double Helix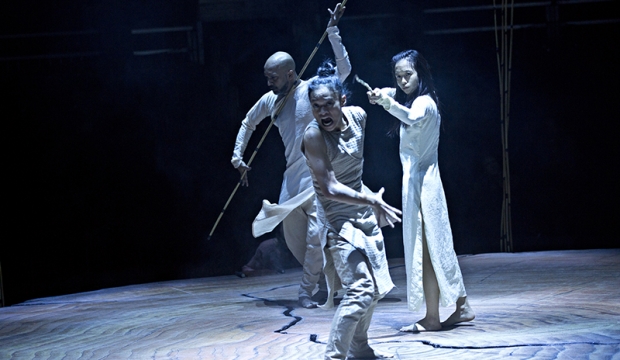 Image © Jean-Louis Fernandez
The Until the Lions streaming is an opportunity to highlight the power of collaboration and the multiplicity of cultural and ethnic backgrounds through creativity and inventiveness. Karthika Naïr, writer of Until the Lions: Echoes from the Mahabharata, delivers a poignant and compelling piece below not only on the need for cultural diversity but its role as absolute vital force in any artistic journey.
Babel (Words), 2010: Choreographed by Sidi Larbi Cherkaoui and Damien Jalet. 18 performers, 13 nationalities, 15 languages (throw in 7 religious backgrounds, for good measure).
DESH (2011): Choreographed and performed by Akram Khan. Behind stage, a core team comprising Farooq Chaudhry, producer, British of Pakistani descent; Tim Yip, set and costume designer from China (but British Overseas); Michael Hulls, lighting designer, and Jocelyn Pook, composer, both British; Irene Lu, assistant to set designer, American; Ruth Little, dramaturge, Australian; JiaXuan Hon, tour manager, Malaysian…"1 Add a handful of other nationalities and languages, for the crew and creative associates who joined in along the way.
Puz/zle (2012): Choreographed by Sidi Larbi Cherkaoui. 21 performers, 11 nationalities from 6 continents. And these statistics only account for the people on stage.
What are some of the other things those three pieces have in common?
• They are all winners of the Olivier Award for Best New Dance Production (2011, 2012 & 2014 respectively).
• They averaged more than a hundred performances each.
• They toured for years, performed before tens of thousands of eyes and occupied reams of space in print and electronic media on four continents.
• Oh, and me. They have me in common as well (French-Indian; raised amidst 9 languages, crucible for 4; site for 38 surgical procedures): executive producer of the first and third, principal writer of the second.
I can say that, immodestly, because when you have been a part of something glorious, even a small part, you wear it as a badge of honour. You want it as epitaph.
Admittedly, these are works by choreographers who had already gained the privilege of resources that allowed them to imagine, and realise, work of such scale, with sizeable cast and crew. Resources that we are immensely, constantly, grateful for, and were never sure of raising the next time around, even in a pre-Covid world.
There are other choreographers, a legion, ones whose focus on mainstreaming multiplicity of colour and gender, ethnicity and age, remains unwavering, whatever the resources at their disposal. Ones who integrate physical disability and communicational difficulties in their collaborators as a matter of course. For instance, Carlos Pons Guerra whose explorations of gender, cultural and sexual identity (Ham and Passion, Penguins, the forthcoming Mariposa …) spotlight the beauty, the absurdity, the brutal contradictions of our worlds.
Rachid Ouramdane who has staged the accounts of survivors of genocide, torture and political imprisonment (Ordinary Witnesses); worked with child refugees (Franchir la nuit), and, earlier, dancers of the integrated company Candoco (Looking Back) to celebrate the company's 20th anniversary.
Or Gregory Maqoma, whose contemporary lexicon is in continuous dialogue with a gamut of classical African dances (Exit/Exist, Cion: Requiem of Ravel's Boléro…), whose dancers deploy both to tell us of slavery and exile, dispossession and survival.
All this to say, from my limited, but lived, experience:
Culture does not merely need diversity; diversity is the life-blood of culture. It is what constitutes much of our existence, for many of us in contemporary dance.
It is the ichor – with both the connotations of the word, divine and corporal – that flows in the work we make, the work we struggle and delight to make.
It's messy, and marvellous. Like life itself. It can be exhausting. It can mean kilos of paperwork. Weeks of knocking on administrative doors for visas and work permits. Hours of waiting in the rain or snow before a consulate or city hall doors. The uncertainty of having a premiere or tour – and, more heartbreakingly, someone's future – depend on the mood of an unseen official, on their signature. Arguments with airline authorities for colleagues with special needs. Midnight expeditions for emergency medication or treatment.
But diversity is not a choice, not a favour, nor a policy adopted to fill quotas, to apply for subsidies or have the right taglines. We need to espouse diversity because we would be poorer otherwise — humanly and creatively. Tragically poorer. Our lives and our art, without these vital connections, without the wealth of varied backgrounds and skills and heritage. Without the memories of our distinct dis/abled bodies. Without the osmosis of these realities and skills between selves — the collaborations that allow dance to blossom.
Uniformity and the stability of the familiar may allow continuation but they seldom spur growth, invention. The word culture itself, happily, refers to squiggly microorganisms springing up in a petri dish or in similar fertile conditions. The DNA of our work contains strands brought in from elsewhere; the cells are enriched by the proteins of specific, embodied difference.
What endangers our cultural wealth?
To state the obvious, the lack of diversity in workforce, especially among leaders. Change often comes from the top; it cannot be cosmetic, one met with a purely quantitative representation.
Crucially, the lack of resources. Resources to professionalise, to make, to tour, to break the ceilings, more reinforced concrete than glass. The finest of talent cannot move further, higher, if vision is not reinforced by the means – material and human – needed to achieve it. Many systems designed to promote diversity seem to become fixed brackets rather than supporting frames.
Invisibilisation is an all-too-present danger, all the more insidious because we often inflict it unintentionally on ourselves. We, venues, companies, and artists. Consequently, the recipients: viewers and press. What, then, is invisibilisation? Lack of attention, of course. Also, the misuse of language. We "invisibilise" these incredibly vibrant and composite experiences, we erase inventiveness and innovation, each time we reduce works and people to headlines or hashtags, in the belief that is a requirement for accessibility. In the belief that the audience will only absorb the known element, the catchphrase, we seize the most reductive of names or terms: traditional, exotic, "Sanskrit epic", "Asian spirituality", "African body". Surely we all love to know more, not less. Surely, you'll remember our songs, our stories? These stories that lead to other stories, other names. And thus become a renewed part of our own?
Take Until the Lions, which we share with you now.
The refrain that first Sohini Alam, and then all the musicians croon, in anticipation of Amba's wedding? It comes from a Filipino fisher-song that Joy Alpuerto Ritter learnt in her childhood, and shared during rehearsals. When David Azurzo bellows Bheeshma's war cry, it is delivered in Sanskrit. They sing in bol (the mnemonic syllables of rhythm in Indian classical music), Basque, Bangla, Old French, Jabberwocky… Kathryn Hunter's curses – the magnificent, unseen voice punctuating key moments of the show – are poems whose structure borrows from medieval Italian and Punjabi forms. Bheeshma's anguished hand to his face is a gesture that has journeyed with Akram from TOROBAKA, and another dance dialect. This piece would not be this piece without them, these multi-corporal, multi-ethnic, multilingual strains.
There is more; more stories, more links. I could go on, but lions should never be kept waiting.
Karthika Naïr
[1] Excerpted from Written on the Body, first published in Dance Gazette UK (2011).