René's blog | "I love it here because I was made very welcome"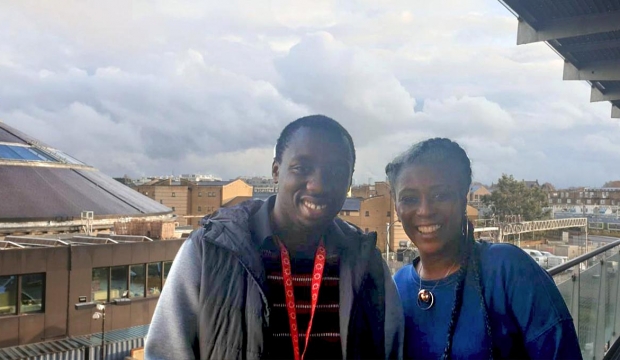 Rene and Delia Barker, Roundhouse Programmes Director
Meet Rene, a student from South London currently at the Roundhouse as part of a work placement. Here with us until March, his placement forms part of the 'Supported Pathways into the Creative Industries' Lewisham College course.
We are working in partnership with Inclusion London under their 'Making it Work' scheme that aims to provide young Disabled people with an opportunity to build some work-based skills that can support them into employment.
During his time here, Rene has worked on a number of tasks across the Youth and Programmes teams and produced some great work. Here are his highlights!
Tell us a bit about yourself, Rene.
I'm Rene, a work placement student at the Roundhouse. I'm from South London. I enjoy music and movies. I always come into work with a smile.
I used to do a Skills of Performing Arts course which was 4 years long.
The reason why I wanted to get work experience here is to learn more work place skills and give young people opportunities within the creative industry.
What is your role at the Roundhouse, and what are the tasks you have been doing?
I've written a newsletter to update staff on the latest developments at the Roundhouse. I interviewed lots of staff about their work with young people across music, circus, broadcast, and education teams.
I've also undertaken useful research for them including providing feedback about young people's experiences.
I've used Excel for data entry in order to gather key information on secondary school aged local children with whom The Roundhouse works.
Additionally I have undertaken admin tasks for the Director. I have most enjoyed shredding, scanning and using Excel.
What has your experience working at The Roundhouse been like?
It's been a good journey for me. I love it here because I was made very welcome and because I love music. And I can meet a new people. I am more confident because I come on time and feel more focussed, I can travel by myself, I get on with people and I can manage my feelings.
What are the people here like?
They're interested in many subjects and are friendly and from different cultures and ages. They're helpful to others.
What's been the best moment of your experience?
I really enjoyed the studio and meeting with the young people here. I enjoyed seeing the stage for the first time.
Did you learn anything special about The Roundhouse?
It's really big, and an amazing music gig venue. The Roundhouse works with people in the community and because of that I love it here.
I'll never forget the memories I made here.
What youth projects did you learn about as part of your newsletter? Can you write a little bit about Sight and Sounds and circus projects which you covered?
I've sat down with Joanna and found out about broadcast and digital opportunities for 18 to 25 year olds. The Sight and Sounds project was for people who are interested in getting involved in the industry.
Also I've interviewed Kevin because I wanted to find out about his role. He's working with a company called BMT, Barely Methodical Troupe, and the street circus collective. BMT are directing the Street Circus shows in April 2020. The shows will feature the street circus collective and our community street circus project and it's made up of 11 to 25 year olds.
In your newsletter you got some recommendations of new music from our music team. What artists did they recommend? Do you have any artists you would also like to recommend?
I spoke to the music team and they recommended checking out new acts Celeste and Pip Blom. Personally, I would recommend Muse and Stormzy.
What is the Roundhouse Youth Advisory Board – what did you learn about this?
I learned that the board is for young people who are able to give their view on things happening at the Roundhouse. Tina and Louiza support the youth advisory board.
The Roundhouse Youth Advisory Board (RYAB) is made up of a group of 16-25 year-olds who meet every month to share ideas, review feedback and try and instigate positive change and exciting ideas within the Roundhouse.
What are you looking forward to doing in your last two months here?
In my final 2 months at the Roundhouse I'm looking forward to studio time because I love drumming. Also I'm looking forward to meeting staff in reception.
And lastly, what are you planning to do next in your career or studies?
My plan is going to the University of Westminster (Harrow Campus) to do music in the future.