Announcing Future Producers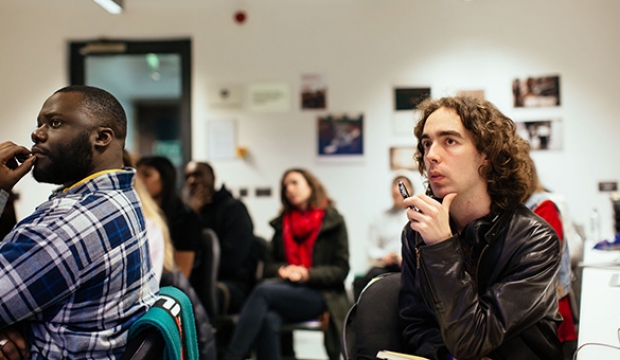 At the Roundhouse, we're delighted to be launching Future Producers: Performing Arts – a new programme for existing and aspiring producers looking to scale up their practice in the fields of Circus, Theatre, Spoken Word, Dance and Cross-Art Form Work.
Our current cohort of 16 producers started in January 2020 and will continue their development with us until June. The producers are from a wide range of backgrounds and from all arts disciplines. As well as those based in London, we are also supporting producers from Leicester, Manchester and Norwich. We would like to thank Leicester Curve for supporting our producer from Leicester, and Manchester International Festival for supporting our producer from Manchester, with travel to sessions at the Roundhouse.
Over 6 months, the Future Producers attend a series of intensive masterclasses with a range of established producers and companies sharing their insight and approaches to producing. Masterclass topics include general management, fundraising, finance management, technical & production, marketing, artist development, programming and curation, access & inclusion and touring work. The final part of the programme develops professional practice and identifies their individual next steps as a producer.
As part of the programme, we will be offering wider opportunities for other producers – both emerging and established – to network, develop and share practice. Please sign up to our mailing list to be the first to hear about the events as and when they are announced. This is where we will also announce when applications open for our next cohort, most likely Autumn 2020.
Thank you to all those who have contributed to this pilot –
1927, Anya Tavkar, Applause, Arts Council England, Axel Satgé, Barely Methodical Troupe, Battersea Arts Centre, Cardboard Citizens, Circa, Clean Break, Crying Out Loud, Draper Conway, Free Word, Fuel, Graeae, Hackney Showroom, Helen Mulgridge, Independent Theatre Council, Jackson's Lane, Joanna Mackie, Laura Sweeney, Lucy White, Manchester International Festival, Centre for Circus Arts, NoFit State, Paines Plough, Punchdrunk, Rachael Spence & Lisa Hammond, Rosalind Coleman, Something To Aim For / Sick of the Fringe, Talawa, Tobi Kyeremateng, Turtle Key Arts, Underbelly, Unlimited, XTRAX
Interested in finding our more about the programme, supporting delivery or getting involved in the future? Drop an email to performing.arts@roundhouse.org.uk for more information.
Follow the conversation on twitter: #RHFutureProducers