Supporting future music makers in Camden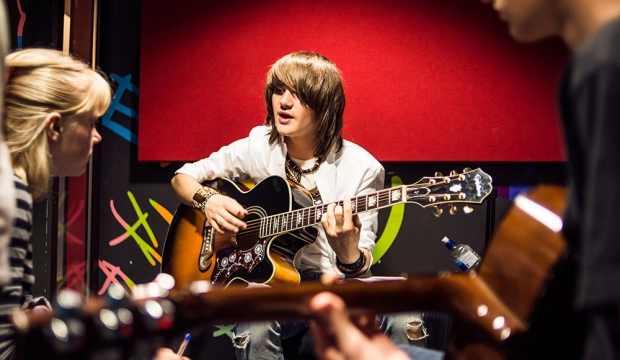 Ronnie Scott's Charitable Foundation have awarded the Roundhouse a grant of over £4,000 towards our Haverstock Band Project.
The project provides free music education for nearly 50 11-14 year-old students from Haverstock School, which is just over the road from the Roundhouse, as part of a year-long music project.
The Haverstock Band Project introduces young people to music. From song-writing to playing instruments to technical skills such as operating PAs, amps and microphones.
Most importantly, each term is tailored to the interests of the students, which means they can explore the genres they love – whether that's pop, rock, hip-hop or jazz.
We are delighted to be helping to fund The Haverstock Band Project in partnership with the Roundhouse. This programme will help schoolchildren from Haverstock Primary School in Camden get first-hand experience in music making in a professional setting. The Foundation supports programmes such as this where young people may face barriers in getting access to music education. By partnering with the Roundhouse, we are glad to show our support for their tireless efforts in nurturing the next generation of musicians.
The project is kicking off this month with eight weekly sessions, all of which culminates in a final showcase at the Roundhouse, which family and friends are invited to. Students also get the chance to record the songs they've written in our industry-standard recording studio and we'll produce CDs for the young people.
Interested in supporting our work? Email development@roundhouse.org.uk