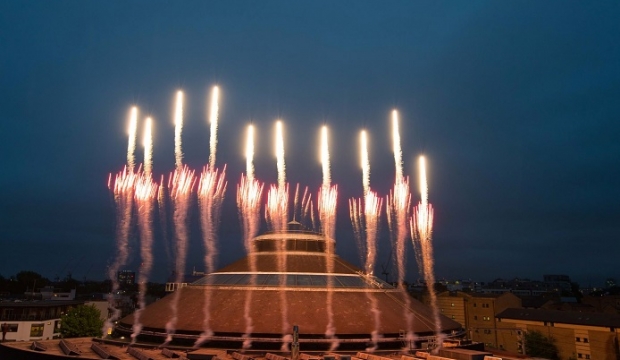 As we welcome in a new year and a new decade, we asked Roundhouse staff what cultural highlights are in store for 2020. So whether you're a culture addict or it's your New Year's resolution to see more shows, here's what we're looking forward to next year.
Nicole Logan – Station Manager, Transmission Roundhouse
Black Girl Fest Academy – January 2020 a 7 month community focused creative programme in association with Apple and the London Mayor's Office focused on equipping 17-25 Black women on the skills they need to enter the hospitality and events sector. Set up by Nicole Crestil and Paula Akpan founders of Black Girl Fest.
I'm excited by it because it's about community, equity and enabling a younger generation with the tools they will need to go on to create artistic; events, productions and spaces that will serve to be diverse and inclusive in a holistic nature. Spaces which will hopefully go beyond casting and policies and instead be powered by the communities that artistic programming serves.
Sally Del Valle Brown – Finance Assistant
Well I am looking forward to Letters Live at the Union Chapel in March, it's the celebration of letter writing where various artists, actors and prominent people read poignant or highly entertaining letters from the pulpit, all proceeds to charity! Also looking forward to watching Anoushka Shankar and Nora Jones celebrate what would have been the 100th birthday of their sitar virtuoso father Ravi Shankar with lots of amazing music at Southbank.
Joanna Newell – Associate Director of Development
Among the Trees, Hayward Gallery will look at how nature has been inspiring artists since the beginning in a big installation exhibition that will be amazing in Hayward's big open galleries.
Paradise – Kate Tempest has reimagined Philoctetes with Lesley Sharp in the title role (June). I mean, anything Kate does is just awesome.
& Juliet (which actually opened in November and I have tickets to in January) – a new musical imaging what if, rather than dying, Juliet had decided to go out and live her best life and I can't wait!
Pavlina Pina Jorge – Assistant Management Accountant
I'm looking forward to Letters Live in March 2020 – fabulously written letters read brilliantly by actors/actresses/comedians etc – and Elton John in December 2020.
Tor Evans – Senior External Relations Manager
Green Man Festival is always a huge highlight of the festival calendar for me. Last year acts like Idles, Aldous Harding, Sharan Van Etten, Car Seat Headrest and Snapped Ankles played but it's the incredible atmosphere and community feel all set in the beautiful Brecon Beacons that makes is so special – as well as being green to their core.
Callum Thomson – Venue Technician
I'm looking forward to Ockham's Razor's new show This Time at (equally beautiful listed building) Shoreditch Town Hall as part of London International Mime Festival. Their contemporary circus is always ground breaking, inventive and beautiful and I cant wait to see their new autobiographical show.
I'm also looking forward to seeing what James Rowland does next, he's got a work in progress coming up at Vault festival which is a great playground to catch a wide range of bold and wild arts. He's such a wonderful wordsmith and stunning story teller.
Also anything Francesca Moody seems to touch turns into the hottest ticket in town so I'll be hopefully catching her shows pre and post Edinburgh.
In 2018 I stumbled across a performer called Lewis Doherty who is like no one I've ever saw before. His filmic and physical one man shows are hilarious and so detailed; he snaps in and out of countless characters so swiftly yet you manage to keep track of all their own stories. Definitely try see Wolf, Boar or Hawk in 2020!
Scarlett Spiro-Beazley – Performing Arts Programme Manager
I'm really looking forward CPT's annual festival of feminism 'Calm Down, Dear' – the shows always leave me feeling empowered, enraged, moved or thoroughly amused, and sometimes all of the above! They've currently got an" open call for the next festival(open call)":https://www.cptheatre.co.uk/get-involved/opportunities/ in May 2020, so if you're developing a new radical, political, feminist show, especially if it's exploring intersectional feminism, then submit an application RIGHT NOW.
Faye Daniels – Marketing Manager: Brand and Impact
Wide Awake Festival! Such an exciting and bold line-up for a new festival. There's tons of bands I'm looking forward to seeing but especially Drab Majesty after I missed them at Dingwalls in Sept.
Anna Wates – Marketing Assistant
I'm looking forward to Not I at HOME, in Manchester. It's a return of Jess Thom's one-woman performance of the Samuel Beckett Play.
I saw Thom's show Backstage in Biscuit Land a few years ago and it really landed a message about access in theatre and how this might be used as a positive creative force both onstage and for audiences. Thom has Tourettes syndrome, for example, and she uses this as a tool for improvisation.