The value of black and PoC-led theatre festivals and seasons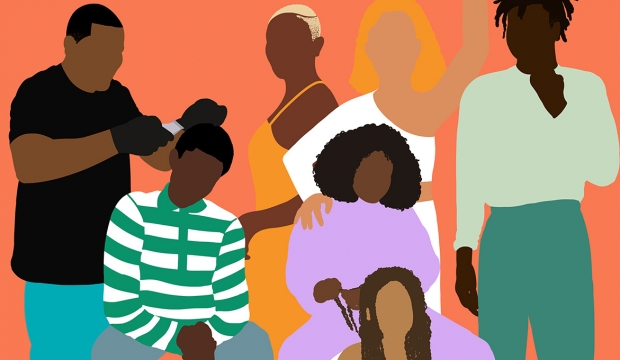 Earlier this year we ran a series of workshops with Critics of Colour for young writers looking to break into the industry. Critics of Colour is a collective for UK-based people of colour who are involved in, or want to get involved in, theatre journalism. Co-founded in May 2018 by poet and journalist Bridget Minamore and poet and playwright Sabrina Mahfouz, alongside writer and producer Georgia Dodsworth. Here we bring you a selection of some of their work.
The British theatre industry is still marginalising its non-white talent and failing to give them the opportunities and recognition they deserve. This marginalisation has prompted some artists to take matters into their own hands, by forming collectives and programming festivals and seasons created with artists and theatre lovers of colour in mind, for example.
Take This Is Black, a festival curated by Steven Kavuma at the Bunker Theatre. For and by black artists, This Is Black consisted of four new plays and an accompanying art exhibition curated by Sophia Tassew. Kavuma's motivation for creating This Is Black is fairly simple: to give black writers and creatives a platform to tell their own stories. A need, that he says, felt even more important due to the lack of inclusion and visibility that has been commonly experienced by non-white artists at the Edinburgh Festival Fringe. The issues surrounding exclusion, lack of visibility and isolation at Edinburgh Festival Fringe have been well documented in recent years. As non-white people living in the UK, most of us are too familiar with such feelings as a result of being in predominantly white spaces.
Kavuma, a theatre director, writer and a founder of The Diversity School, isn't the only creative who has wanted to provide a safe space of sorts to those who are overlooked by the mainstream theatre world. Black artists and artists of colour have been curating, producing and programming festivals and seasons with the main aim of uplifting and centering stories that perhaps (rather frustratingly) wouldn't be given the time of day otherwise. These theatre collectives, seasons and festivals, led and devised by black people and PoC, are necessary for theatre lovers who want to see more representation and a range of experiences portrayed on stage, and be in a more inclusive theatre space. They bring black actors, writers, directors and other creatives from the margins to the centre, in an industry where they are invisible, marginalised and most likely having to fight to get opportunities (from larger theatre institutions) to showcase their work and talents in the first place.
Just as we have seen black and PoC film, literature and music being platformed and celebrated via various seasons and festivals…the same is happening and is needed, within theatre spaces.
Last Autumn," Blacktress UK(Blacktress UK)":http://www.blacktress.co.uk/ co-produced a "season on the voices of black British womxn" at the Tristan Bates Theatre as part of the John Thaw Initiative. The season was a success, with many shows selling out. Blacktress UK invited black and mixed-race women to perform their works in progress, addressing themes of motherhood, hair, faith, queerness and more, and receive feedback for free. Talawa Firsts, the popular annual festival conceived by Talawa Theatre Company, is dedicated to new black British writers and theatre-makers. The company has long been a champion of "fresh, Black creative voices", and works closely with theatre-makers throughout its several programmes and initiatives. The SYPCE Collective, a group of five young black women, are behind new play PYNEAPPLE. PYNEAPPLE follows five black women who find refuge and comfort in London-based hair salon Crowns and explores themes such as colourism, femininity, mental health and sexuality. Interestingly, PYNEAPPLE featured as part of This Is Black at Bunker Theatre, and excerpts of the play were also performed as part of Blacktress UK's season at Tristan Bates Theatre in 2018.
Just as we have seen black and PoC film, literature and music being platformed and celebrated via various seasons and festivals (i.e. the British Film Institute's 2016 Black Star season; Bare Lit and Africa Writes), the same is happening and is needed, within theatre spaces. This doesn't just apply to smaller, independent theatres but larger theatres too, particularly West End theatres, as it could be argued that this is where many of the barriers and challenges exist (at least on a larger scale) for black artists. It is worth noting that these festivals, events and specially-curated seasons within the arts are often born out of frustration due to the same issues mentioned towards the beginning of this article: lack of inclusion, diversity, recognition, opportunities, resources etc. The often overwhelming whiteness of the arts is what drives people to create platforms and spaces to centre themselves and showcase work that is ignored and/or severely underrepresented within the mainstream.
Early last year, the announcement of a three-month-long season of BAME theatre work slated for 2019 excited many theatre lovers (particularly theatre lovers of colour). However, no further news has been revealed about this monumental BAME season, that Arts Council England invested nearly half a million pounds in. This funding comes from Arts Council's Sustained Theatre programme, aimed at supporting the creation and touring of new plays by Black and minority ethnic theatre-makers.
This year will see the launch of the UK's first-ever Black British Theatre Awards, celebrating black performers and offstage talent. Appropriately taking place during Black History Month, the awards will honour black British creatives in 24 categories. It will undoubtedly be a huge moment for black British theatre.
Black and PoC artists deserve to have a much bigger spotlight shining on them and their work.
Eventually, it would be great to get to a stage where we didn't need to rely on these smaller festivals and seasons to experience new black and PoC theatre talent. The theatre industry should be supporting new talent and offering the resources and the platform(s) that would enable black and PoC creatives to tell the kind of stories they want to tell. And perhaps most importantly, these stories would be performed to audiences of more deserving sizes. It is often the case that younger, emerging Black and PoC creatives are performing their plays to considerably smaller audiences than they would be if the larger, more prestigious theatres would take their work seriously. This has been my observation, particularly when it comes to black and PoC-led festivals and seasons. They do an amazing job at uplifting and supporting black and PoC creatives and artists. The rest of the industry, and the more mainstream sections of the theatre industry especially, can learn a thing or two from the non-white creatives who are doing this important work. Black and PoC artists deserve to have a much bigger spotlight shining on them and their work. The onus shouldn't always be on non-white artists to ensure that this happens and the rest of the industry, especially the organisations, individuals and theatres with the means and resources to do so, need to do their part so that we can honestly say that British theatre is truly inclusive, representative of our society and caters for everyone.
Tenelle Ottley-Matthew is a writer from London with bylines in Huck, Gal-dem, Pride magazine and more. She will soon be working in book publishing.
Illustration by KRillustrations.