The need for authentic, vulnerable Black men on stage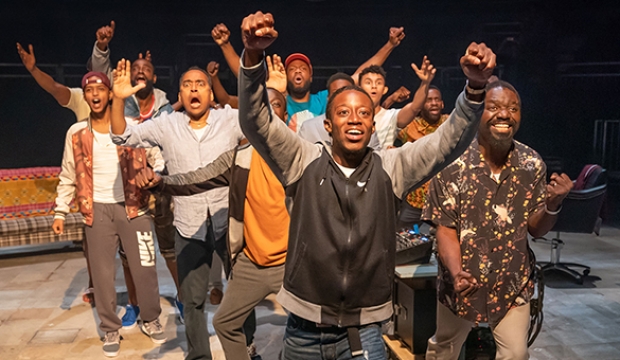 Earlier this year we ran a series of workshops with Critics of Colour for young writers looking to break into the industry. Critics of Colour is a collective for UK-based people of colour who are involved in, or want to get involved in, theatre journalism. Co-founded in May 2018 by poet and journalist Bridget Minamore and poet and playwright Sabrina Mahfouz, alongside writer and producer Georgia Dodsworth. Here we bring you a selection of some of their work.
"Barbershops have always been a safe haven for Black men. This has always existed as our community, being passed down from generation to generation." Ade Dee Haastrup tells me. We are sitting in the Roundhouse overlooking the view from Chalk Farm Road, where in a few hours, both Haastrup and Demmy Ladipo will be performing Barbershop Chronicles for the second time that day. They throw words back and forth to describe the play. "It's fun." "Energetic." "Colourful." "A rollercoaster." "Uncomfortable and Comfortable." Haastrup chirps in with "Rollercoaster" again, setting off a round of laughter, but it is summed up by Ladipo who finishes with "It's a celebration".
Since its first premiere at the National Theatre in 2017, Inua Ellams' Barbershop Chronicles, has toured all over the world, including Australia and America. It is back again in London at the iconic Roundhouse as part of their 'Fades, Braids and Identity' – a series of work to champion Black and Brown artists exploring race, gender and identity. Barbershop Chronicles is an exploration of Black masculinity in Barbershops across the world, touching on topics of family, politics and of course, football. Both Ladipo and Haastrup experienced the magic of the show as audience members before becoming a part of the cast. Ladipo knew he "had to be a part of it" as soon as he saw it, and Haastrup commented on the authenticity of the play drawing him in; he "had never seen black masculinity depicted like that. Twelve, 3-dimensional black men, playing 33 characters, all with different stories".
Six months in and they are both loving it. I ask them of their favourite moment so far. They both fall silent, heavy in thought, until Ladipo clicks his fingers as a memorable moment comes to him. Thirty minutes before each show begins, audience members are invited to go on stage and vibe with the cast and the music. During one of these moments in Sheffield, the entire audience was cheering and clapping for a lady who was having a great time and living in the moment. Haastrup mentions Ladipo just stole his favourite moment. They laugh. He instead talks about the humbling and beautiful moments that occur when people who do not feel represented on stage, come up to him and talk about the authenticity of the characters and the ways in which the show has positively impacted them.
Seeing a wider perspective of Black masculinity and their stories as part of the African diaspora being represented accurately was inviting.
A play with twelve black men as the main characters on stage, is not a sight regularly seen and this is exactly what drew Haastrup and Ladipo to the play. Seeing a wider perspective of Black masculinity and their stories as part of the African diaspora being represented accurately was inviting. I ask them if working with a cast of ten other black men has altered the way they view masculinity. Ladipo nods, "Definitely, it's in the way we support each other, people listen and help each other in a really loving way … you'll never hear anyone telling someone to Man Up" or other sayings which promote harmful perceptions of masculinity. Haastrup confirms this, adding that he grew up in an area where toxic masculinity was rife within black men. "You had to adopt a strong, tough soldier-like persona [whilst growing up], so to come into this with 11 other black men who are all very different and hold no expectations of being a certain type of man has broadened my perspective". The themes in the show hasn't just affected them but also their families. Haastrup shares a heartfelt moment of his father coming to see the play and giving him a hug after. As Haastrup's first theatre production, it was a pivotal moment where he felt actively encouraged to pursue acting by his father. Ladipo jokes while sharing his moment mentioning the joy his parents get when they see their surname in a glowing review.
I hope they walk away with a deepened perspective on masculinity, specifically Black masculinity and a fresh perspective on how Black men are together.
Haastrup highlights the taboo nature of mental health in Black communities and the importance of honest and open conversations like those in Barbershop. "To have play that shows you that there are safe havens, [that] you can be open and you can be vulnerable is important." Ladipo agrees discussing that in most scenes of the play, men are going through situations which is being addressed in ways you wouldn't traditionally expect black men to do – "being honest and open about how they feel, allowing themselves to cry, hugging!" This accurate representation of human expression in males is exactly what they say makes the show inviting to all ages and races, "the relatability of the stories and topics touched on and on a base level, the relationships with male figures in a way you have never seen before. Women can experience this as it is probably something they haven't experienced before in a barbershop. For men, it's something they may not usually speak about but they now get to see it played out in front of them and pick out bits that relate to them or people they know."
What message do you want the audience to leave with? "There is no one specific message because there are so many different things in the play" Ladipo continues, "but I hope they walk away with a deepened perspective on masculinity, specifically Black masculinity and a fresh perspective on how Black men are together" Haastrup adds "Vulnerable. How we can be vulnerable". I ask what they are hopeful to see in the future from theatre. Ladipo hopes "more people feel inspired to make their own authentic, honest pieces of art." Haastrup's response is simply "More three dimensional characters of Black men."
Omolade Ojo is a writer from London with a passion for food, theatre and books.