Is commissioning work by Black artists enough to make Black audiences feel welcome in predominantly 'white' theatre spaces?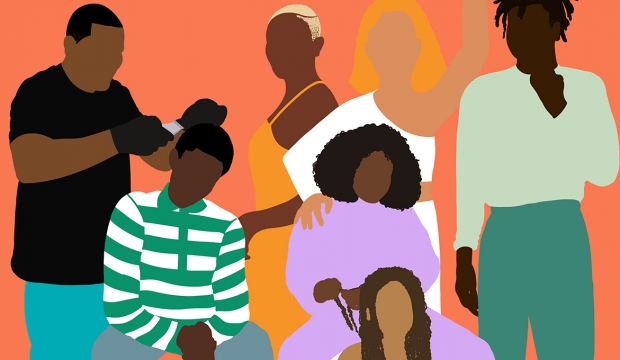 Earlier this year we ran a series of workshops with Critics of Colour for young writers looking to break into the industry. Critics of Colour is a collective for UK-based people of colour who are involved in, or want to get involved in, theatre journalism. Co-founded in May 2018 by poet and journalist Bridget Minamore and poet and playwright Sabrina Mahfouz, alongside writer and producer Georgia Dodsworth. Here we bring you a selection of some of their work.
Before I became explicitly aware of my own positioning in society, going to the theatre was a treat. It was an experience that made me feel special. One where class structures and racial difference didn't appear to matter, as essentially, we, the audience, were simply watching a play. Yet, once the relationship between the colour of my skin and the way I was treated emerged, I realised that certain demographics are made to feel more comfortable than others. I learnt that the discriminative hierarchies of society didn't disappear in the theatre environment.
…just because someone opens the door, it doesn't mean that the room will be as welcoming.
As productions by Black artists steadily began to find themselves in predominantly 'white' spaces, I felt like my luck was about to change. No longer would I have to yearn for a narrative that I could relate to, without having to put myself in someone else's shoes. No longer would I have to scour the audience for people who looked like me, because Black audiences will come, right?
Going back to my experience of watching Nine Night at the National Theatre, I remember feeling a two-tiered sense of consciousness. On one level, I was excited and proud to see a depiction of my Caribbean lived experience being centre stage. On the other, I was aware that I was at the National Theatre and made up a small minority of Black audience members. Despite the connection I had to the play, my societal anxieties surfaced, so much so, that at the beginning of the show, I found myself too embarrassed to laugh. As the play ensued, I questioned whether the majority of the audience would understand the humour and appreciate the play's authenticity. Were they here to learn or here to sneer at us, and to what extent does the play influence their perception of Black Caribbeans? Had I not gone with a group of friends, I am sure that I would've felt even more so on the outside looking in, on a play that almost felt like home.
Alternatively, my experience of watching J'ouvert at the Theatre 503 was one of the best I have had to date. Not only was the story one that spoke to me culturally, but I finally felt comfortable in a theatre space. Was it due to the subject of the play, or was it because I was no longer a part of the minority group of audience members? There are many factors to consider when addressing the issue of comfortability, none of which takes away from the accomplishments of the Black playwrights and artists who have brought these authentic pieces of storytelling to the mainstream. Nevertheless, a question mark still lingers over the matter of how to make Black audiences feel welcome in theatre spaces.
You could argue that in order to encourage more Black people to go to predominantly 'white' theatre spaces, more art by Black creatives should be produced in these theatre institutions. Hypothetically speaking, through making the programming of a theatre more ethnically and culturally inclusive, the demographic of the audience would begin to reflect that, but how do we achieve this? I guess, the first step would be to make work by Black artists, appeal to these 'white' institutions and their subsequent audiences. Would that make the theatre seem more welcoming?
Last weekend, I attended the first ever Global Black Voices production from the Global Voices Theatre company, at the Roundhouse. The evening consisted of excerpts from six plays, written by international Black playwrights from outside the UK. The themes addressed, included marriage, sexuality, queerness, identity and religion, with each play ranging temporally. Following the excerpts, was a panel discussion led by journalist and writer Bridget Minamore, who was joined by Inua Ellams (Barber Shop Chronicles and founder of the Midnight Run), Jasmine Lee-Jones (Seven Methods of Killing Kylie Jenner) and Sophia A. Jackson (founder of www.afridiziak.com).
During the discussion, Inua recounts the process of marketing his one-man play The 14th Tale, to a theatre who was worried about not being able to draw an audience to a show that centred around a Black boy's internal struggle. He detailed that it was about 'stripp(ing) away the racial specificity of it…and therefore people wasn't coming to see a Black play, they're coming to see a boy get in trouble and learn not to get in trouble'. In one instance, it's slightly disappointing that what individualises a play, is what needs to be removed in order for it to become marketable. However, this is nothing new and is unfortunately, a part of the process of occupying a space in an industry, that wasn't built with you in mind.
So, at this point, we now have a play written and performed by a Black artist, being commissioned by a theatre institution, that is characterised by its demographic of white, middle class audiences. Now that we've found a space, how do we invite Black audiences? One audience member during the panel discussion, recalls how Oliver Samuel's plays were being marketed to Black audiences. In her experience, the reason why Black people were encouraged to attend, was the result of 'advertising in West Indian takeaways or in the Rio Cinema'. It was because marketers 'specifically put literature out in those places' and went 'to the people…knowing where they are'. Yet, just because someone opens the door, it doesn't mean that the room will be as welcoming. Therefore, does the question then revolve around finding our own spaces? As Bridget rightfully argues, 'Why push for the…'big theatres', why try and make an unwelcome space welcoming, when you can go to a welcoming space?
maybe it is about occupying spaces that we can call our own. Familial spaces, communal spaces, spaces that don't have hierarchical race and class structures sown into the seats of its stalls.
A theatre producer in the audience, expresses her desire for 'more of the big shows…outreaching…and putting on their shows in non-traditional theatre spaces' and maybe this is the solution. Taking into consideration Bridget's question, maybe it is about occupying spaces that we can call our own. Familial spaces, communal spaces, spaces that don't have hierarchical race and class structures sown into the seats of its stalls. This is a long shot of course, as these types of structures are sown into almost everything. Yet, if my experience of J'ouvert is anything to go by, this is achievable.
Arguably, work created by Black creatives, does bring Black audiences to spaces that are deemed unwelcoming, as I myself have engaged in this practice. However, I don't think the work alone, is enough to make the invitation meaningful, especially if the environment doesn't afford for that to be the case. Black audiences, and ethnic minorities on a whole, shouldn't have to battle with the discriminatory rules and regulations of society, in the theatre environment. Like our white counterparts, theatre should be an escape, not a microcosm of our everyday injustices.
Shanaé Chisholm is a Theatre Critic, recent Goldsmiths Graduate, and Development Operations Assistant at the National Theatre. You can read her blog Keeping It Naé.
(Keeping it Nae)
Illustration by KRillustrations.