Making organisations more inclusive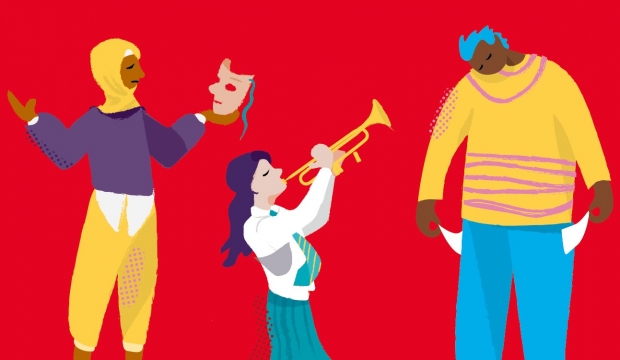 In our 'Self-Made Sector: Working in the creative industries' report launched earlier this week, one of the barriers to employment was office environments not being inclusive, and young people of colour feeling they need to change to fit in.
Bobette Kenge started The Forum as a discussion platform for individuals of colour working in the creative industry. Bobette wanted to empower BAME individuals who are in their early careers to talk honestly and freely about their experiences. The Forum are in the pilot phase of working with five organisations in the creative industries, and their employees, to identify the key issues and make recommendations to each organisation about how they can change their workplace for the better. Here she writes about the top three themes that came out through the initial workshops and what organisations can do…
During workshops, attendees discuss in great detail everything that relates to their experience of working in the sector. It's important to recognise that these issues have the potential to influence the retention and career development of people who are just starting out in the industry, particularly those from minority backgrounds. There are a number of actions that organisations can take to dismantle those issues before they become major barriers. I discuss those issues and provide recommendations for actions below.
1. Organisations being 'just white'
It wasn't surprising that it came up during The Forum's discussion workshop. The overarching impression is that many people of colour, who are just starting out in the industry, feel they have no or little part to play in the organisation – that such organisation may not be a place for them.
If the majority of your staff are white, there is a chance that your non-white employees feel that they do not belong there. Here is some advice we've given to organisations we're working with:
Find out how to engage your non-white employees and see how they can be involved and be part of the organisation.
Think about your hiring process – what can you do differently to encourage applications from every background.
Cultivate a 'team work' spirit in the organisation. You can do this through activities which encourage team members across the organisations to work together. This doesn't need to be work-related and you shouldn't have to wait until your annual 'day away' to plan this, the more opportunities you provide your staff to feel part of the organisation, the less it will feel like a place where they do not belong, even if it's 'just white'.
the more opportunities you provide your staff to feel part of the organisation, the less it will feel like a place where they do not belong
2. The feeling of being different
This is a real issue when the individual is made to feel that the reason that they were hired was for diversity purposes; and when organisations fail to recognise that race is not the only dimension of ethnic diversity.
Across ethnicities exist cultural differences that can take many forms and when organisations fail to appreciate these kind of differences it hinders productivity.
This is particularly relevant for team managers. You need to get to know your team members, invest time in them and find out how their skills and experience can be best put in good use. Implement collaborative ways of working which allow individuals to contribute alternative ideas and suggestions and establish a two-way feedback system with your team.
There are many uncertainties for people starting out in their careers and like the first 'issue', it doesn't help if the individual is made to feel that they shouldn't be there or being different is the only reason that they are there.
3. The lack of support
The third and last issue I'd like to point out on this blog is the issue of support or lack thereof. At our previous workshop, attendees expressed a feeling that they weren't being supported in their roles, which often left them being demotivated. Lack of support can be damaging to their development, progression and even retention.
Managers need to establish an environment of trust and permit employees to make mistakes and learn from them. Creating a mentorship programme or similar could help employees to grow in their role. But most importantly you need to ensure there is a culture of support. This will come from the teamwork 'spirit' I mentioned above.
While there are a number of things that organisations can do to dismantle those issues before they become barriers to a young professional's career and personal life (because let's not forget that our professional lives also most times tend to influence our personal lives as well), it's important that organisations recognise that 'listening' and 'knowing' the issue is not enough! Though it is certainly a starting point, and a good one at that.
Find out more about The Forum and how you can get involved.