Meet the All-female Transmission Roundhouse Team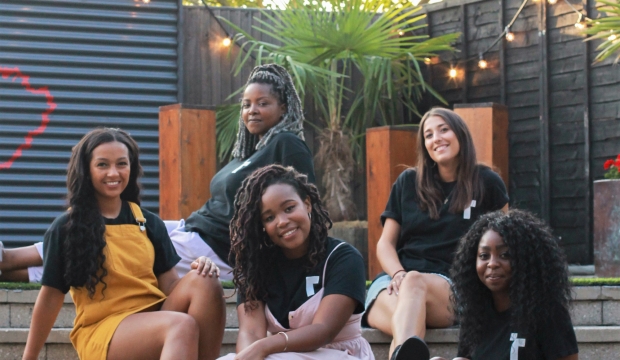 Naomi Oiku, Rose Rwama, Niccy Logan, Ronnie Zubic Navhi, Danielle Samuel (left to right). Image © Sarah Harry-Isaacs.
We chat to our incredible all-female management team at Transmission Roundhouse this International Women's Day.
Tell us about your roles!
Cherise Hamilton-Stephenson: I am the Trainee Assistant Station Manager for Transmission Roundhouse. The best thing about my role is the variety of tasks I get engage with. I support the daily running of the radio station, assistant produce station events, create audio content and manage presenters.
Lauren Arch: I am the Broadcast Content Creator for Transmission. My role is a fun mix between graphic design and social media management. I mainly work on creating show-focused artwork for our Instagram and Twitter, as well as for our presenter's platform. Maintaining a unique visual presence online is very important to get the station's ethos across, as well as engage with our community.
How does it feel to be part of an all-female management team in an industry where women are underrepresented?
Ronnie Zubic Navhi (Producer and Broadcast Assistant): It feels very progressive and united. It's refreshing to be able to work so collaboratively and freely without fear of judgment.
Erica Mckoy (Producer and Broadcast Assistant): It means there is change! It means as a female presenter and producer we can see ourselves in managerial roles and we can encourage wider conversation about all under represented groups. The power of seeing yourself represented and manifested through incredible women means that change is happening and more change can be made to ensure that more voices are heard in radio. So, how does it feel to be part of a female led management team? It feels bloody incredible!
Having a media management team like ours, that is made up of 100% femme identified people, queer people and people of colour is still such a rarity but it informs our station culture, our attitude, our content and how we move through the industry. To me it feels completely natural and a natural extension of how 'forward-thinking' the Roundhouse is.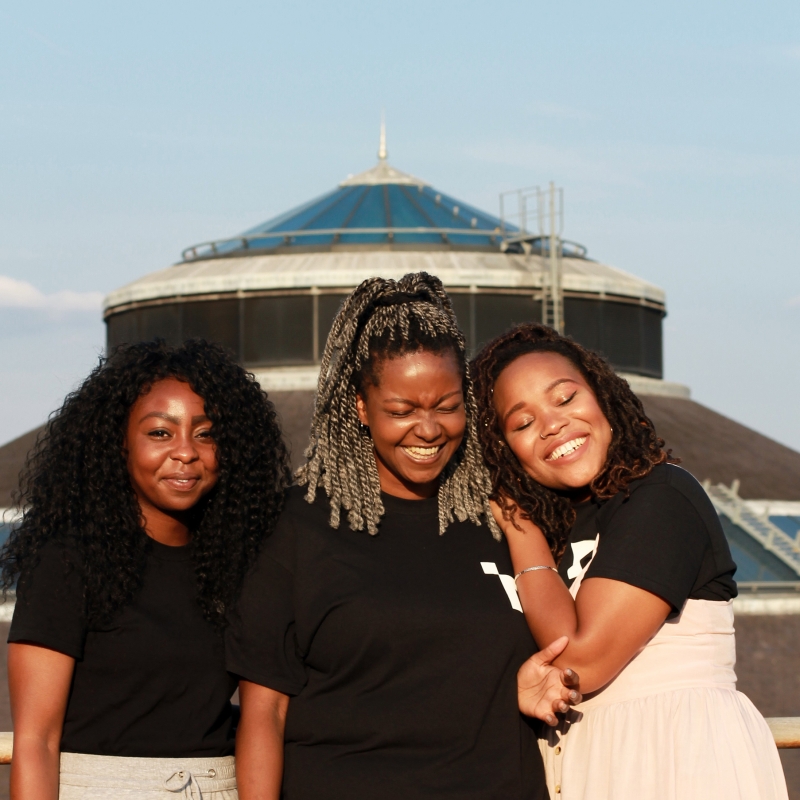 Danielle Samuel, Rose Rwama and Niccy Logan (left to right). Image © Sarah Harry-Isaacs.
Share the love! Who in the industry do you really rate right now?
Rose Rwama (Presenter and Broadcast Assistant): There's so many incredibly talented women to choose from, I constantly listen to all the exceptional female presenters at Transmission Roundhouse. Nikita Chauhan happens to be an ex-Transmission Presenter and has been making some powerful moves as a Presenter and a Producer since. She's currently Producing Who We Be TALKS for Spotify. And then Zakia Sewell alongside making a really banging show on NTS, she's been producing some great radio exploring Black British culture and heritage.
Cherise Hamilton-Stephenson (Trainee Assistant Station Manager): Nadeska Alexis host and executive producer of Everyday Struggle podcast is doing really well in the music journalism industry. She recently got a great new music show on Beats 1 that showcases new hip-hop artists and sheds lights on complex issues that occur in the music industry.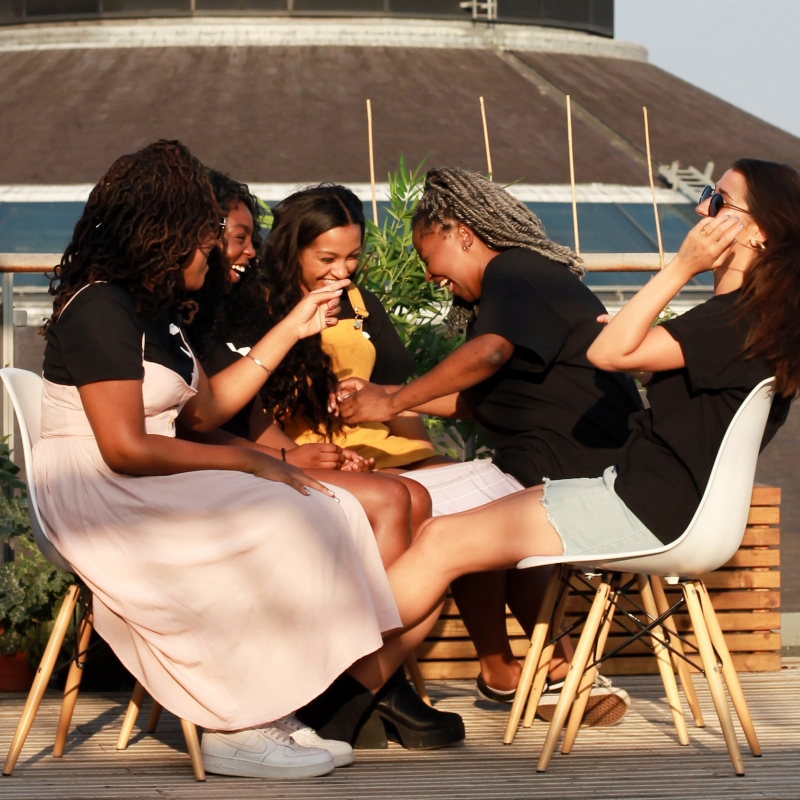 Niccy Logan, Danielle Samuel, Naomi Oiku, Rose Rwama and Ronnie Zubic Navhi (left to right). Image © Sarah Harry-Isaacs.
What's the best podcast you've listened to in the last month?
Lauren Arch (Broadcast Content Assistant): The best podcast I have listened to in the past month has to be Nneka J's Passing Through; a series of digestible anecdotes about her travels, past relationships and all the lessons learnt along the way.
Danielle Samuel (Broadcast Assistant): The best podcast I've been binge listening to this past month is called Murder Mile. It is a true crime podcast told by a London tour guide about historical murders that took place within a square mile of Soho. A great feature of the podcast is the fact that the presenter actually goes to the area he is talking about to gather atmospheric sound effects, I find it to be incredibly immersive and as someone who enjoys local history, I enjoy hearing about London throughout time.
Marie Horner (Senior Producer): Badass Mums, a brilliant podcast about living, existing and being a working mum or just being a woman. It features a roster of four great mums working in various creative sectors and each week they have great insightful chat with some superb guests and in general it's a great resource for new parents.
What is Transmission Roundhouse doing for International Women's Day?
Niccy Logan (Station Manager): We're hosting a special live edition of Project Pleasure, our femme-centre sex and relationship podcast on Friday 9th of March. Our co-hosts Frankie Wells and Anouszka Tate will take on the role as Games Masters, putting the audience through their sex-ed paces but definitely not the sort you would have done in the classroom. We expect there to be some honest and funny conversations around all things sex and sexuality, perfect for a giggle and some femme empowerment.