What's On Mass 2017 all about?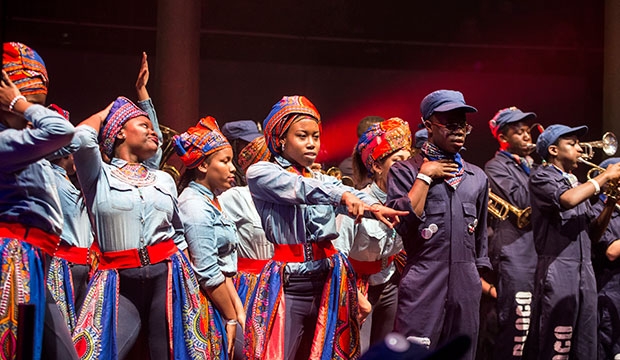 We spoke to On Mass Producers, Sylvia and Lucy, to find out what On Mass 2017 is about.
Q: Could you give us a brief introduction to what it's all about?
Sylvia: On Mass is a year-long project that brings together young and seasoned performance artists from around the world, to make music, exchange ideas and collaborate before performing in a one-off extravaganza in the Roundhouse Main Space, featuring 180 young artists alongside the incredible Angélique Kidjo.
"It's all about breaking down borders and celebrating collaboration with young people at the heart."
Q: How has Angélique been involved?
Lucy: We commissioned Angélique to write a unique piece of music, which has been sent around the world for groups of artists to creatively respond to. This is actually the soundtrack to the On Mass trailer – you heard it here first! This is the central pin of the show and will be the first time that it will be heard live by an audience. All of these unique responses will feature in the two hour show – and honestly, they are incredible.
Q: For those that don't know the three times Grammy award winner can you tell us a bit about her?
Sylvia: As you mention, Angélique is a Grammy award-winning singer-songwriter renowned for her diverse musical influences, blending a variety of styles and languages. This openness is really important, as she will be fronting a coming together of music and circus from around the world. We were keen for the artist to be an advocate of the core values of the project. Beyond her music, she is also a social activist; a UNICEF Goodwill Ambassador and co-founder of the Batonga Foundation, which gives a scholarship to girls in Benin, Cameroon, Ethiopia, Mali and Sierra Leone. She's an incredibly inspiring woman, who I've no doubt will inspire everyone involved in this project, to use their music for positive action in their communities.
Q: Tell us more about the young people, who are ultimately at the heart of this project.
Sylvia: We have worked in India, Palestine, Brazil, Scotland and the Faroe Islands with professional and emerging UK and local artists, and have put on performances in each community we have worked in.
Some of the young artists have been selected to come and spend the week leading up to the show with us here at Roundhouse, to collaborate with professionals and other emerging artists. We will be encouraging artists to be open minded, absorbing the sounds (and skills!) that everyone brings to the table to create something unique and that embodies the core values of the project and show.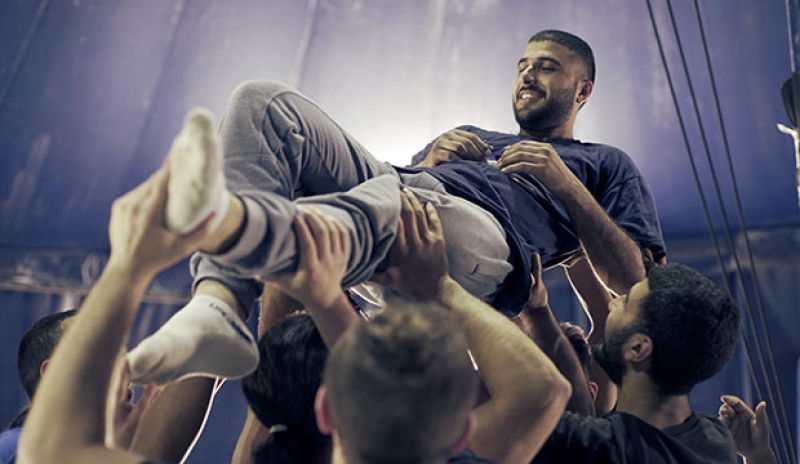 Q: And what about the other artists, who are they?
Lucy: The show is part of the EFG London Jazz Festival, and will feature a range of emerging music and circus artists from London partners and Roundhouse collectives including London's top carnival band Kinetika Bloco, Roundhouse Choir, Roundhouse Music Collective and Roundhouse Audio Collectives, Breakin' Convention (Sadler's Wells), Battersea Arts Centre's Beat Box Academy and the Roundhouse Street Circus Collective.
"When we did this with Jamie Cullum in 2015 it was magic, and we are so excited to be doing it again on a bigger scale this year!"
Q: Where did the idea come from?
Lucy: The project was born out of the Roundhouse International Programme which was established to platform the talents of young artists and to encourage collaborations between professional and emerging artists around the world. The programme is built on partnerships with incredible organisations around the world who share our commitment to young people. Through the work we aim to create spaces to exchange ideas, break down barriers and make great art together.
Q: There are three main themes for this year. 'Breaking down borders through creative collaboration', 'Cross-genre collaboration' and 'Socially engaged global dialogue'. Can you tell us a little bit more about these themes?
Sylvia: It often feels like stories of fear and separation dominate today's media. We want this show to be the antithesis of this. We want the audience to leave with a sense of possibility and unity. Last year the show finished with everybody singing 'One Nation Under A Groove' at the top of their lungs… we want to see this matched this year.
"As you can imagine, 180 young people singing a song like this is going to be pretty spine-tingling. You will have to come and watch to find out".