The Winners of Roundhouse Radio Award 2016
"Radio and passion is something that should always remain together." David Prist, managing director of award winning radio production company, Whistledown.
Which nicely rounds up exactly what the room was absolutely full of on Friday evening. Passion. As we all gathered for our third and annual Roundhouse Radio awards in the Sackler Space, the room was buzzing with pure passion. We were all excited to congratulate and celebrate the producers and presenters that make the station what it is.
Our hosts, Shan McGinely and Shahlaa Tahira guided us through the evening, and presented this year's panel of judges. All the judges came from an array of places within the industry and were happy to share their wisdom. We had BBC Radio 1 and 1Xtra's Adele Roberts, Carly Wilford from SISTER radio, David Prest, Elise Cobain; producer on BBC Radio 1 (not to mention a Roundhouse Radio alumni), Hana Walker-Brown from Wolfgang Productions, James Deacon from Global (and previous Roundhouse Radio station manager) and CEO of Folded Wings, Karen Pearson.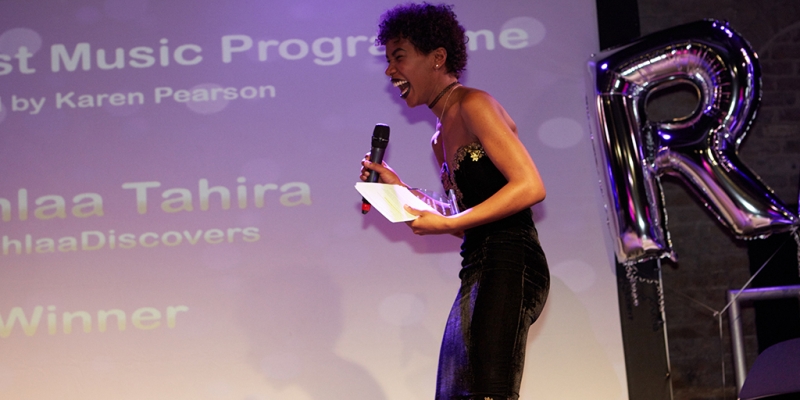 The judges were completely blown away by the strength of the audio they heard this year. As Roundhouse Radio enters another year, the excitement is bubbling for what's to come.
During the interval I spoke to presenter and DJ; Carly Wilford, to chat about what made the entries exciting to listen to.
This is what she had to say; "Listening to all the shows made me realise how much talent is out there, how much diversity there is, and how many people that are embracing being individual, and finding their own lane – which I think is really important. It's very easy to end up following trends and following what stations want you to talk about and want you to play. Everyone's show in the category I was judging was so different."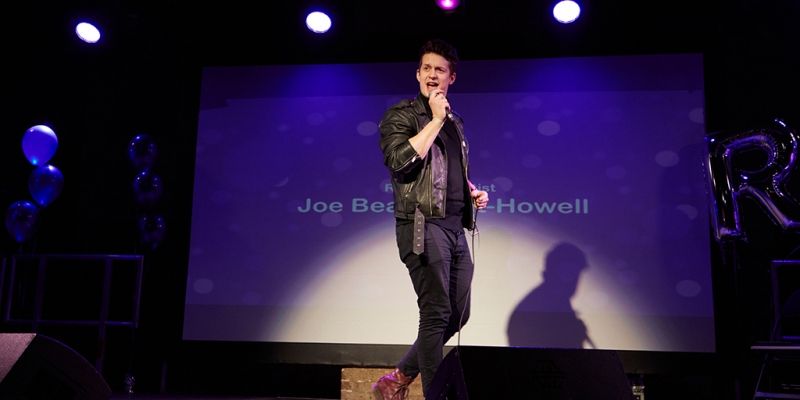 The last award of the ceremony, is the highly celebrated 'Sound of Roundhouse Radio 2016' award, voted for by Roundhouse staff. Last year the award was presented to poet and host, Laurie Bolger. It's an award which demonstrates originality and innovation on Roundhouse Radio. This year the award was given to Brittany Taylor of the fashion and beauty show, FashionHouse. A show that was born on the station at the beginning of the year.
When I caught up with Brittany, with excitement brimming she exclaimed "When they called my name I cried. I'm not going to lie, I cried. Just because I've had so much support here and I honestly had never presented a radio show before stepping foot into the Roundhouse.
I really can't believe it. To have this award to back me, I'm really going to go for it. The Roundhouse pushes people like I've never known a company to push before!
The Roundhouse has really lit that fire in me tonight!"
Catch the FashionHouse, bimonthly on Friday evenings from 6-7pm on Roundhouse Radio.
Check out all of the other winners of this year's awards:
Best Feature – Harrison Stock; Juicebox
Celebration of the Arts Award – Joe Skelton and Nick Wallis; Druids Horse
Best Production – Karl Bos; Deeper Cuts
Best Specialist Music Programme – Shahlaa Tahira; Shahlaa Presents
Best Presenter – Fergus Dufton; Recycle Everything
Best Presenter – Harrison Stock; Juicebox
Best Speech Show – Brittany Taylor; FashionHouse
Sound of Roundhouse Radio 2016 – Brittany Taylor; FashionHouse