Our 2016 Artistic Highlights
2016 has been a landmark year for the Roundhouse. It marked the building's 50th year as a performance venue and our 10th year of transforming young people's lives as the Roundhouse Trust.
We've also produced an incredible array of boundary-breaking, thought-provoking and visually arresting performance this year, from mammoth installations in our Main Space, to provocative political theatre in our intimate Sackler Space and an inspiring performance project in Pentonville Prison.
Here some of our team members who helped to make 2016 such an exciting year share their highlights…


Marcus Davey, Chief Executive and Artistic Director:
"It was just over 3 years ago and I was sitting in a meeting room high up in a grand building overlooking the harbour in Stockholm. We were having a meeting of the 360 Round Venues Network with representatives from France, Spain, Denmark, Sweden, Croatia, Canada, Italy, Holland and the UK. We were discussing ideas for new work to commission and the idea that came out on top was an 'in the round' dance performance from Akram Khan. Over the course of the following year there were meetings with Akram Khan, his company and with Sadlers Wells to see if they would come on board as a co-producer. A little know text was chosen from the Mahabharata and the journey towards Until the Lions began. I was so thrilled to welcome Akram and his company and a sold out audience to the Roundhouse in January this year, and even more proud to know that the show has now travelled around the world and it still has quite a journey to travel. It takes a great group effort to make something like this take off and I can't thank all those partners enough for making it happen."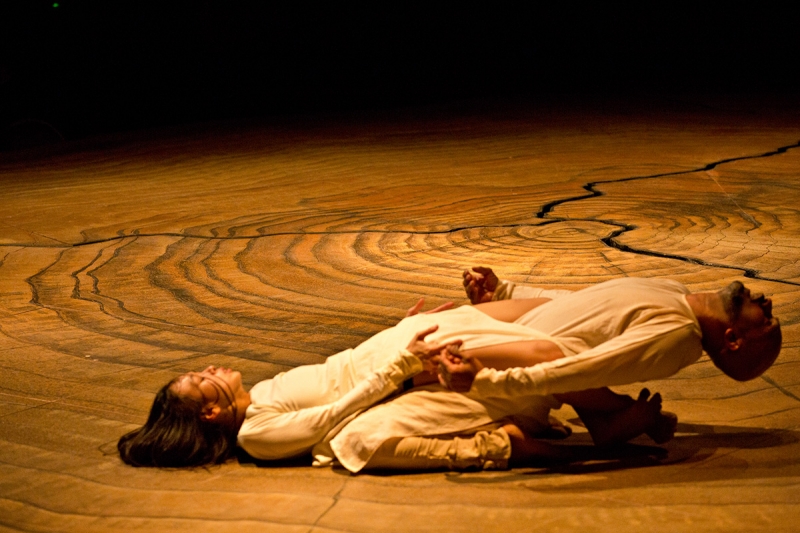 Akram Khan's Until the Lions, © Jean Louis Fernandez
Leila Jones, Senior Producer:
"Last month saw Putting Words in Your Mouth open at the Roundhouse – a brand new show commissioned and produced by the Roundhouse, that marked the end of Scottee's term as our Associate Artist with this important directorial debut. The Roundhouse team had some reservations about presenting the show at first as it has some pretty controversial content – Scottee interviewed people who are members of the LGBT wing of UKIP about their feelings towards identity, Britishness and belonging and used this audio as the soundtrack to the show, with actors lip syncing to the at times, upsetting commentary. We were set on helping it come into the world in a way that wouldn't compromise the show's integrity and it's pretty safe to say that we achieved that aim. After each show the bar was full of people eager to discuss the issues it brought up and the complexities around it. Putting Words in Your Mouth was upsetting, powerful, raw and absolutely what we want to be working with artists to create. We're thankful to everyone who supported us in making this show happen."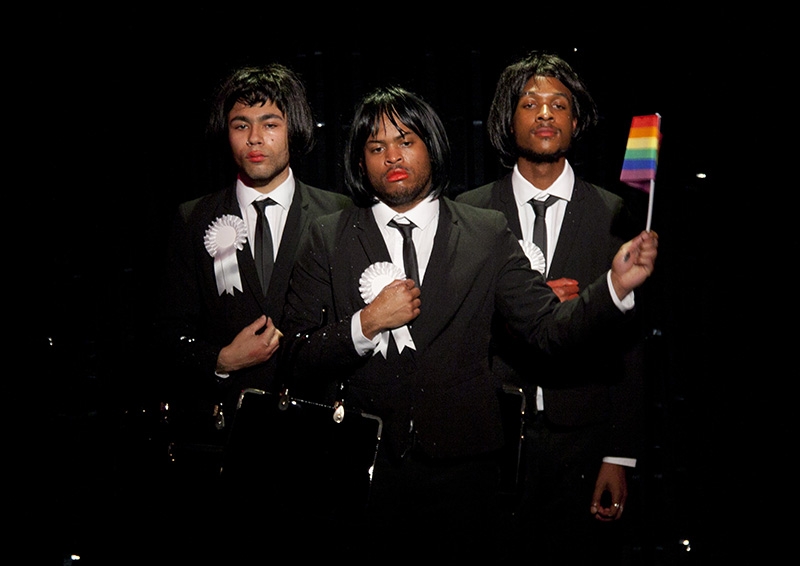 The cast of Putting Words in Your Mouth, © Holly Revell
Marie Horner, Broadcast and Digital, Programme Producer:
My highlight of 2016 has to be our audio installation, Coming Out. It was created by Roundhouse Radio and Nesta with the aim of challenging ideas that have been considered the norm for a long time by platforming the voices of young people who shared their personal thoughts on love and gender. The installation featured at Last Word Festival back in May and we then took it to technology festival, FutureFest in September. It invited the audience to explore the Roundhouse and Tobacco Docks by following instruction given by their 'guide' triggered on their phone by hidden beacons. The result was an incredibly intimate and personal experience that broke down what we already know about love and made the listener consider what the future of love may look and sound like. It made me think – as technology increases, it will undeniably change the way we form our relationships."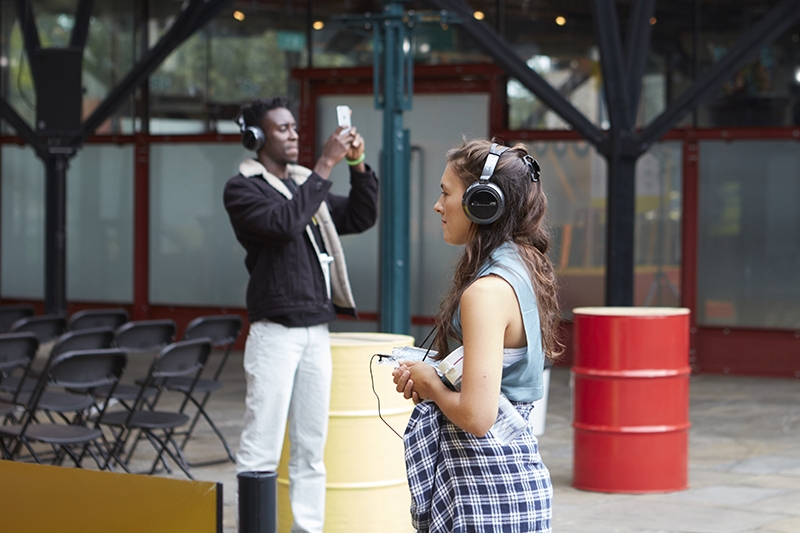 Coming Out at FutureFest
Rachel Nelken, Senior Producer:
"If I had to pick one highlight it would be Eska's gig as part of Ron Arad's installation Curtain Call in August. The whole concept and creative way that they'd used the Curtain and space inside and out, the incredible band and string section and the amazing visuals in which Eska and her body were portrayed beautifully and sensitively, really brought her Mercury nominated album to life. The Performance told a story of an incredibly talented songwriter and musician and the journey that she'd been on in managing to 'give birth' both to her child and her own album in the same timeframe, and at the age of 41 really owning who she was as an artist. Many of the audience who were there said it was one of the best things they'd ever seen. It could never happen again and could only have happened at the Roundhouse."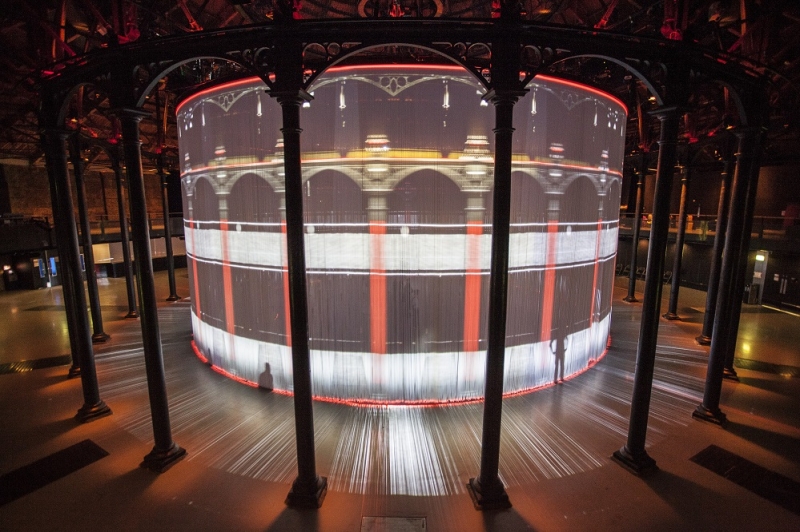 Ron Arad's Curtain Call, © David Levene
Angus Scott Miller, Youth Support Worker:
"2016 at Roundhouse has been a real busy, fun and successful year within the studios with ground breaking projects that have helped push and challenge young people's creative skills to new levels. If I had pick a moment that really stood out for me it would have to be running Wax Lyrical inside Pentonville prison. Wax Lyrical is our annual a six week performance project that focuses on young people who are not in education employment or training.
The young people embark on incredible journey where they devise a professional show in 6 weeks with the help of professional poets and performers. The aim for Pentonville prison was to take this model condense it down into 4 days, working with ten inmates with zero acting experience and devise a show that would be performed to over 100 prisoners. The vision behind the play was to set the performance in a court room where Justice would be put on trial. Justice would have 5 witnesses Love, Betrayal, Mental Health, Money and Freedom with participants creating poems based around one of the themes.
The performance was a great success and whilst the inmates who took part wrote the play, the audience completed it. They added the extra dimension needed to elevate the performances to a level where I could see the actors really start to come out of their shells and enjoy themselves. The audience actively commented on court room procedure, booed the Prosecution and the Judge whenever necessary, and applauded mightily for Justice. And they weren't just applauding the play, they were applauding the possibility of themselves achieving something similar. It felt like everyone in that room was free."
Here's to another incredible year of performances in 2017.
Did you see an incredible performance in 2016? Share your comments below…
Main image: Akram Khan's Until the Lions, © Jean Louis Fernandez