Lost And Found: "Extraordinary and unlike the usual stories of migrant journeys"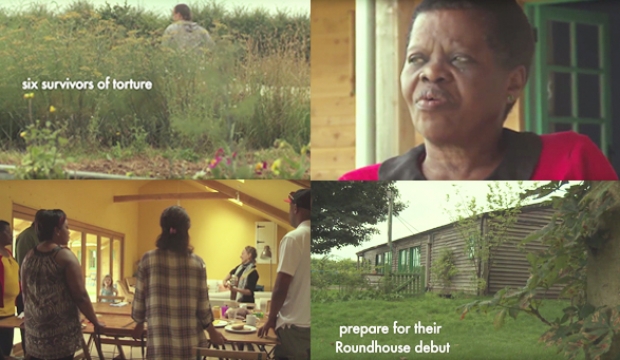 Lost And Found debuts at the Roundhouse next month, and follows six migrants from Iran, Cuba, Uganda, Burundi and Ethiopia, as they travel to London to rebuild their lives with the aid of charity Freedom From Torture.
The performance features an original combination of speech, song and recorded sound, and is a collaboration between the charity's creative writing group Write to Life, singer, musician and composer Ana Silvera, and Christine Bacon, Artistic Director of Ice & Fire theatre company, known for its ground-breaking verbatim human rights theatre.
We caught up with Sheila Hayman, videographer and Write to Life coordinator to find out more about the show…
What can audiences expect from Lost And Found?
I hope, something extraordinary and very unlike the usual stories of migrant journeys, with their smugglers' trucks and sinking dinghies. These are important, but we have found that to capture the public imagination with this subject, you have to surprise them and engage their curiosity.
We have dug into the journeys from 'there to here' and found the telling moments: a teacher threatened for allowing her Muslim pupils the 'vanity' of combing their hair; a violin buried in the garden by order of the Ayatollahs; a moment of solace at the piano on St Pancras station; and an African village song accidentally sung to the occupants of the British Library reading room. All this and more, with three live musicians, video projections, recorded sound and, of course, our extraordinarily brave and talented cast.
The participants come from a variety of backgrounds. How have you found the experience?
I've been working with this group for fifteen years so I know them pretty well. Some come from cultures where music is the stuff of daily life; you sing when you're happy, or sad, or angry – or you're forced to sing as a kind of torture by abductors.
Others are from places where every kind of music vanished for years. But they're all part of our Write to Life family, where in a sad irony, they often feel safer with people from other countries but who've gone through similar horrors, than with people from their own culture who may be from a different tribe or political party.

Lost and Found preview – 'Jade's Story'
Have you had any stand-out moments?
For me, I would say it was the two Iranian women. As young girls they'd had not just music but their entire personal lives suppressed (no dancing, makeup, relationships, or any kind of love). But each of them in turn told us that this project, and particularly singing, had revealed emotions in them they didn't even know they had. The joy of seeing one of them get up and dance, for the first time in years, to some traditional music on her phone was pretty special.
Are there any particular themes?
Music is the thread that links most of the stories. I had a hunch that it would turn out to be important in different ways to most people, so music has become not just the form, but the content of the work. This means that Ana, our brilliant composer, has been able to use traditional music from the different countries, but then develop and weave them into the rest of the work in a coherent and inspired way. Beyond that, the title says it all: it's about things lost, and things found or rediscovered, on the journey across the world to a new life in London.

Lost and Found preview – 'Kate's Story'
What are your plans after the performance?
Umm – a rest would be nice! I've been creative director, producer, blogger, videographer, press agent, editor, cheerleader, and dinner lady on this project. But the proper answer is that September 2 is really just a 'soft launch' for the main product, an audio download and podcast which will combine the work people see and hear at the Roundhouse with extra material. The material will be binaurally recorded and mixed so that listeners on headphones will have the experience of actually travelling through the work. It's a really amazing sensation which is hard to describe if you haven't had the chance before, so that's going to be really exciting. It'll be launched some time in mid/late September so keep watching the Freedom From Torture website.