Young disabled Ukrainians lack integration in their community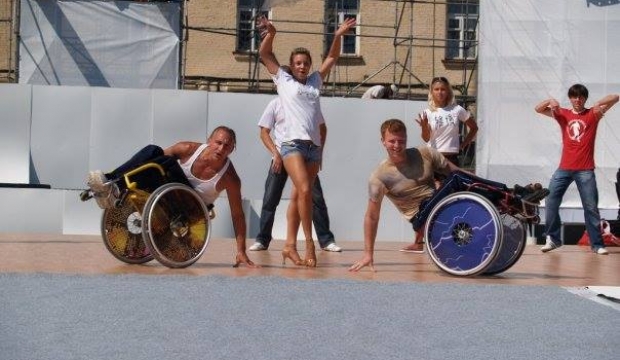 Better Together is a new integrated arts project for young people in Ukraine, which aims to give young disabled people access to the arts whilst bringing the community together.
For many young disabled people in Ukraine the reality is that they are faced with not only a lack of opportunities to engage in performing arts, but they have a lack of opportunity to integrate at all, with other people in their community. Sadly the reality for many young disabled people in Ukraine is that they are excluded from society.
2.7 million people (6%) are registered as disabled in Ukraine with many facing difficulties and discrimination. Ten times as many children are in institutional care in Ukraine as in England. Many young people with disabilities in Ukraine face negative attitudes and the assumption that many cultural activities are not for them.
Roundhouse, Lyric Hammersmith and Shelter+ have teamed up for Better Together, a new integrated arts project for young people in Ukraine, which aims to give young disabled people access to the arts whilst bringing the community together. The project will be creatively led by Ukrainian wheelchair dancer Ivan Zamiga and UK's Wolfgang Stange from Amici Dance Theatre Company.
We hope this project will unite the community and be a springboard for change across the whole country. Young people need someone to look up to, someone who inspires them to be the change, which is why it's brilliant to have Ivan on board.
It's great that there have been big steps in the Ukraine to support disabled sports people, inspired by the popularity of the Paralympics, but now it's time to give disabled people wider access – this is still a big problem in Ukraine.
The project will centre on a week of activities in Krivvy Rih, Ukraine (20-26 June 2016) that aims to celebrate collaboration and connection between disabled and non-disabled young people.
The project, which launches in Kryviy Rih, will galvanise grass-roots, self-initiated projects aimed at building support systems and campaign movements – most notably established by single mothers of disabled children. Following the project a toolkit will be created around developing integrated arts projects for Ukrainian arts organisations to use.
Ivan will collaborate with Wolfgang Stange who has experience working across the world on integrated projects with Amici Dance Theatre Company, the Lyric Hammersmith's community artists-in-residence. It is a unique dance theatre company integrating able-bodied and disabled artists and performers. Founded by Wolfgang Stange in 1980, its productions and workshops have had a major impact world-wide, challenging conventional attitudes about disability and the arts.
This project is part of the Roundhouse's commitment to working with young people around the world – offering opportunities for young people to learn and develop creative skills that help to benefit their community. The initiative was born out of the Roundhouse's previous work with Shelter+, Ukraine which revealed there was a distinct lack of representation from any disabled people in the community.
This project brings together lead partners Roundhouse (UK), Lyric Hammersmith (UK) and Shelter+ (UA) as well as UK and UA NGOs working with disabled young people. The project is funded by Schering Stiftung in the framework of MitOst and British Council, Ukraine.
> To find out more about Better Together email Sylvia Harrison
> Find out more about our partnership with Shelter+