Most of us have felt the effect of music on our emotions but drummer, teacher and neuropsychologist Dawn Rose, who performs in our new production The Happiness Project, has dedicated her doctoral research to investigating how learning to play musical instruments helps us develop cognitively, behaviourally, socially and emotionally.
Driven by her desire to help her students, Dawn wanted to understand more about how music facilitates learning and well-being in children from a holistic perspective as well as being motivated by her own personal journey with music:
Music helped me to overcome some difficult times and being a musician enabled me to connect and communicate creatively with other people, and explore the world making music and friends at the same time.
Her study, Changes in the well-being of children starting to play musical instruments, carried out with Professor Pamela Heaton and Dr Alice Jones-Bartoli, hypothesised that a group of children spending more time learning musical instruments would benefit more in measures of emotional and behavioural well-being than those who spent less time on this activity.
The paper is work in progress following several previous reports that show playing instruments to have a range of benefits such as good health, improved quality of life and mental well-being (Hallam, 2010). Parr's 1985 study showed that playing the piano can exercise the heart as much as a brisk walk and Clift's 2008 report showed singing to increase production of antibodies that play a critical role in supporting our immune system.
Dawn's study asked parents and teachers to monitor children's behaviour on a series of clinical scales including: aggression, anxiety, attention problems, depression, hyperactivity, learning problems and withdrawal, and adaptive scales including: daily living, adaptability, functional communication, leadership, social skills and study skills.
There has been quite a lot of research focused on specific aspects that musical learning might affect, such as aspects of intelligence, or self-esteem for example, but my research tries to pull together many aspects in order to present a more holistic understanding of the development of musical learning in children.
The preliminary results of the study showed that parents and teachers reported time spent learning a musical instrument seemed to have a positive impact on well-being, with the group who spent more time learning instruments (More MIL) showing a higher level of resilience on these measures, in comparison to the group who spent less time learning instruments (Less MIL) who had overall lower scores on externalising problems, internalising problems, school problems, overall behavioural problems, anxiety and somatisation and a higher score on adaptive skills.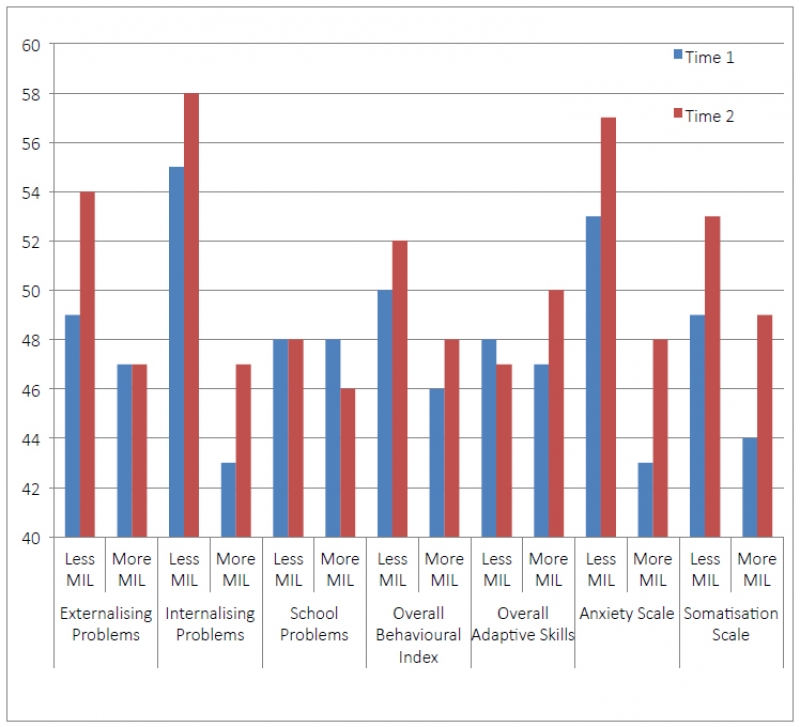 Chart depicts change over time on the Behavioural Assessment System for Children 2, Reynolds & Kamphaus, 2004 (Y axis = standardised scores, X axis = BASC variables).
The evidence in the report suggests that time spent learning musical instruments has as much impact on some aspects of well-being as physical activity, and far more than other aspects of leisure activities.
Alongside her PhD studies at Goldsmiths and lecturing in artist development at the British and Irish Institute of Music, Dawn has also been part of The Happiness Project, a brand new theatre production produced by the Roundhouse that follows a sell-out Edinburgh run, exploring happiness with a company of young artists, scientists and academics, running from 3 – 14 November.
Performing in The Happiness Project and being part of its development has had a big impact on Dawn's academic research:
It has taught me to consider more carefully the relativity of generalised concepts. As a result I have changed the way I will write my thesis to include more qualitative data in order to better reflect the individuals who have contributed. The project has also helped me to think about how I can better communicate ideas on different levels; from working with young people who have many interesting and incredibly valid questions, to communicating with creative people from a different artistic place who think more visually, and then also to being able to debate with other academics from various disciplines which have different ways of understanding concepts.
So take the expert's advice and reacquaint yourself with that dusty guitar in your loft and don't miss Dawn in action when The Happiness Project heads to the Roundhouse this November.
References
Hallam, S. (2010). The power of music: Its impact on the intellectual, social and personal development of children and young people. International Journal of Music Education, 28(3), 269-289.
Parr, S.M. (1985). The effects of graduated exercise at the piano on the pianist's cardiac output, forearm blood flow, heart rate, and blood pressure. Dissertation Abstracts International, 46 (6), 1436. (UMI No. AAT85-18673)
Rose, D., Heaton, P. & Jones-Bartoli, A. (2015). Changes in the well-being of children starting to learn to play musical instruments
Image © Peter Schiazza