Women in Music: Join the Conversation!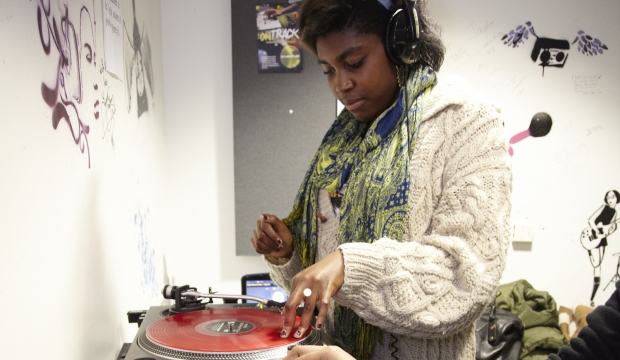 Did you know that only 30% of management, promotion and live sector roles in the music industry are held by women?* How many female music producers or label CEOs can you name?
At Roundhouse we work with over 3000 young creatives every year, engaging them in creative opportunities in music, performing arts and media. We're here to support as many of the next generation of emerging musicians, music producers, promoters, DJs and sound artists as possible, whatever their gender. So, its hard to ignore the lack of equality in the wider music industry and the message this sends out to young people making career choices.
On Saturday 7th March 2015, Roundhouse will be kick-starting a dynamic conversation with young creatives, emerging artists and industry professionals around women in the music industry.
We'll be asking:
What's the problem?
What's the blue sky thinking?
What can we do to create change?
The event will be the catalyst for a longer term campaign for equality in music, which will see young people informing the key objectives.
The day will run from 11am – 4pm, involving panel debates, breakout discussions, live music and networking. Industry professionals involved in the event include:
XFM

presenter Lliana Bird 'Birdy'
Singer-songwriter, model and record producer VV Brown
Co-founder of Iconic Artists Zoe Stainsby
Red Bull Records' Angie Somerside
Rizzle Kicks' Jordan Stephens
Live music will be performed across the day by emerging artists including Rive, Eden Roxx and Roundhouse Resident Artists Carmody and Karyma.
Want to be part of it? The event is free to attend but availability is strictly limited. To find out more and register your interest please email us by Wednesday 4th March.
*Data source: Association of Independent Music
This event is part of the Call to Create Season. Call to Create is a global collective of cultural organisations that believes it's time to shout louder about the great art young people make.