Roundhouse Stories: Paul Cree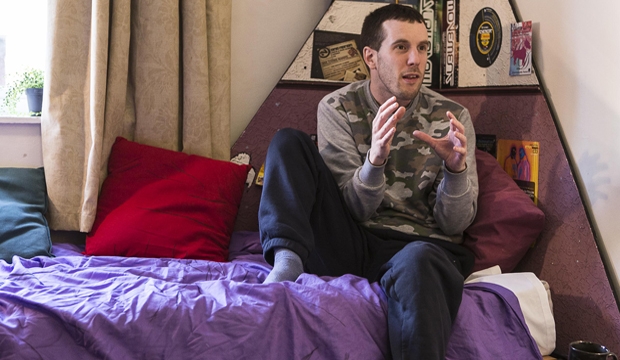 Writer and performer Paul has performed at festivals, shows and events all around the UK. As he prepares for a national tour of his acclaimed spoken word show 'A Tale from a Bedsit', we caught up with him to find out how the Roundhouse's creative programme has supported him to get to where he is now.
How did you get involved with the Roundhouse?
I was already writing poems and stories when I heard that an artist called Polarbear, who I found really inspiring, was leading a poetry project there. I wanted to develop and push myself with what I was trying to do, so it seemed the perfect place to start.
The main thing I got from being part of the Poetry Collective was going out of my comfort zone as a writer. Working as part of a group, writing material together, taught me new techniques and performing in showcases at the Roundhouse and places like Whitechapel Arts Gallery and Edinburgh Fringe Festival really helped me come on as a performer.
Aside from making some really good friends and generally having a good time, it was here that I got the confidence and guidance to turn professional.
What did you do next?
When the poetry collective project ended, the Roundhouse offered us the chance to become a semi-professional group, associated with the venue. We called ourselves Rubix, and in our first year we created a scratch performance of a show called House Party, working with a professional director.
I was also able to pitch an idea for a show, A Tale FromThe Bedsit and it was programmed into the Roundhouse's Last Word festival. It was my first ever full length solo show and was over 18 months in the making. To date, it's the biggest thing I've ever done and was a huge learning curve – a massive investment on the Roundhouse's part and something I will always be grateful for, as well as everything else!
What are you up to next?
Since then I've been lucky enough to be part of and perform several experimental theatre shows working with a whole range of different artists and companies (including Battersea Arts Centre, Look Left Look Right and Secret Cinema). I'm now in the process of setting up a tour for A Tale From The Bedsit alongside a developing a spoken word EP and a new theatre show called No Milk For The Foxes which is a collaboration with another artist called Conrad Murray. I also run workshops for young people in poetry, storytelling and theatre.
My relationship with the Roundhouse remains as strong as ever! If I ever need advice, I feel it's a place I can come and talk to the staff about it, which I really appreciate. There's also a lot of the writers that I'm friends with that are still part of projects there.