Puffball: Human Rights Discussion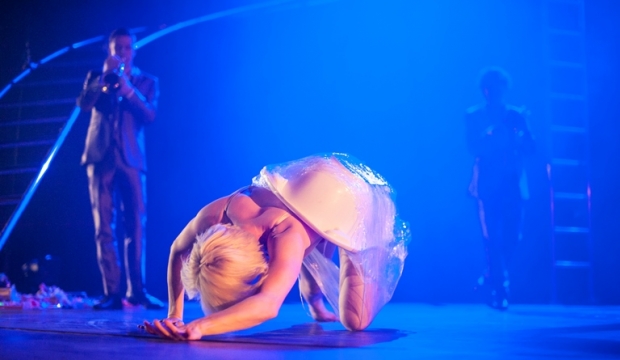 TV & Radio presenter Evan Davis, hosted a post-show panel discussion at last night's Puffball performance looking at the issues raised in the performance that affect lesbian, gay, bisexual, transgender and questioning (LGBTQ) today.
The panel was made up of Boris Dittrich (Advocacy Director, Human Rights Watch), Jay Stewart (Co-founder, Gendered Intelligence), Sophie Ward (Actor & Writer), Syriah Bailey (Puffball Ambassador) and Emma Woollcott (Mishcon de Reya Solicitors Associate).
Hear what the panel had to say in the discussion highlights…
Puffball Ambassador Syriah Bailey highlighted Puffball's ability to raise awareness of LGBTQ issues, engage young people and the importance of balancing the negative with the positive when tackling issues affecting LGBTQ young people today.
A lot of the stories we've shown are quite heart-wrenching…but they're also quite joyful.
Actress, writer and LGBTQ campaigner, Sophie Ward, underlines the benefit of presenting forums for the discussion of LGBTQ issues.
A show like this raises a lot of issues…I imagine there'll be a lot of young people who come to see the show and it gives them a platform to have a conversation.
Emma Woollcott is a Lawyer at Mishcon de Reya Solicitors and coordinates Mishcon de Reya's sponsorship of 'Pink Law' – a directive to supply free legal advice to the LGBTQ community. Emma talks about how far laws surrounding LGBTQ issues have come and what more the law has got to do, underlining the way law makers play a key role in articulating and shaping the values of a country.
In a lot of ways laws in this country protect LGBTQ people but it takes a while for society and culture to catch up.
Jay stewart, co-founder of Gendered Intelligence, who tackle issues and increase understanding of gender identity, speaks about the problem of medicalising the transgender population and the issue of gender stereotyping and prejudices, something that affects both transgender and LGB people.
It's about shifting culture and changing social opinions around what it means to be a gendered person, how to express one's gender in rich and diverse ways and to celebrate that like Puffball has.
Human Rights Watch Advocacy Director, Boris Dittrich, advocates the human rights of gay people around the world, focusing on countries where homosexuality is still criminalised. Boris explains the global issues affecting LGBTQ people today, stressing the point that there is still much to be done for the rights of LGBTQ people both abroad and at home.
There is so much negativity going on and we are trying to fight that.
What's your opinion? Join the debate with Puffball, at CircusFest until Sunday 27 April.