Imogen Heap introduces 'Reverb'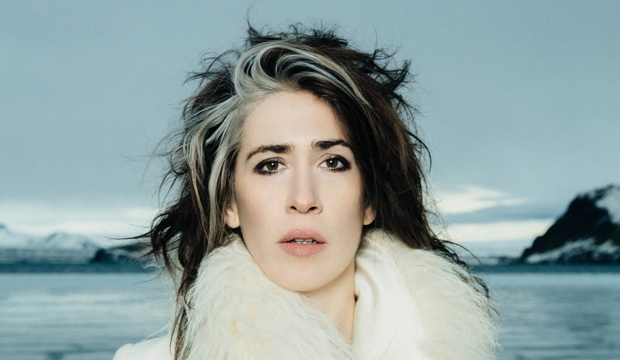 We're thrilled that the curator for Reverb 2014 will be Grammy Award-winning singer-songwriter Imogen Heap. Here, Imogen explains in her own words what has inspired her and what you can expect from the festival.
This is a really exciting year for me. As well as the release of my fourth solo album, Sparks, I'm really proud to present Reverb. Across the bank holiday weekend in August, I'll be taking you on an exploration of living contemporary composers who have heavy leanings toward technology. Together, we'll peer into the worlds that these musicians and composers embrace and discover just how they push the envelope. Reverb is going to smash the 4th wall down – the unseen barrier between stage and audience. I invite you to take part and be the music…
Inside the Main Space, you'll witness an array of performances, from whole orchestras improvising, to one woman (me) and her musical gloves. The whole building will be alive with creations to inspire you.
My inspiration behind Reverb Festival came from one of the most exciting things I have done as an artist, a journey of musical re-discovery that I've named 'The Baton of Awe'…
My journey began with a visit to a great friend, a wonderful composer and creative technologist – the amazing Nick Ryan, whose piece Synaesthesia will be performed by the London Contemporary Orchestra. Nick has been a massive inspiration to me, so I asked him to name one composer or musician who had really inspired him.
Nick picked the world-famous Finnish violinist Pekka Kuusisto. I travelled to see Pekka at his home and discovered that, although being more well-known for playing concertos on stage with a world-class orchestra, he's also a great fiddle player and improviser. I've persuaded Pekka to join us for Friday night's 'One-Man Band' evening, where he'll perform a world-premiere of music he has written for violin and electronics.
I asked Pekka when I was with him to name someone who had inspired him. He sent me to the incredible Norwegian composer and vocal improviser Maja S. K. Ratkje. Maja will also join the One Man Band.
Maja then named the composer Simon Steen-Andersen whose extraordinary work Black Box Music performed by the Arhus Sinfonietta kicks off Reverb. I was fortunate enough to see Black Box Music performed by Arhus in Denmark with Simon and it blew me away – I knew we had to have it at Reverb!
Finally, Simon named radical composer Alexander Schubert as his inspiration and Alex will be performing his piece Lucky Dip with the Decoder Ensemble at a late-night Reverb performance.
I wish I could've continued with the Baton of Awe journey – but time had run out. However, the whole weekend is filled with inspirational musicians and innovators who have inspired me and many others. I hope they'll inspire you too.
Lastly, Reverb is your only opportunity this year to see me perform my new album as I premiere it at the festival. I'll also perform some songs you will know all too well and I look forward to finally performing my new music for you.
I challenge you to not enjoy the festival – it's going to be fantastic.
Love, Imogen xx