CircusFest 2014: What is Puffball?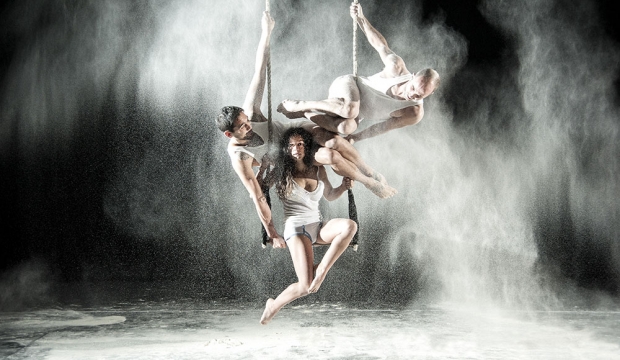 Ambassador Syriah Bailey gives an insight into the CircusFest Main Space production created at the Roundhouse.
As we approach CircusFest, I'm sure many people will ask the question "What is Puffball?" However, it's not so much about what Puffball is, it's more about what Puffball has become. When did the cast start wearing blue lipstick and pink glitter on their eyebrows? Why did they just dance on a bed suspended in mid-air? And what's with all the jelly? Those are questions I ask myself during rehearsals. But the most popular question I have been asked is "Why is it a Lesbian, Gay, Bisexual, Transgender and/or Questioning (LGBTQ) cast?"
For me, Puffball began in 2012 shortly after I was appointed onto the Board of Trustees. My mission statement was to raise awareness of equality and diversity across the organisation and at the time, many of my LGBTQ friends were experiencing hardship as a result of their gender identity and/or sexual orientation. At the time, awareness of homophobic bullying was on the rise and I was working with Gendered Intelligence (GI) to design a report called "Capturing Journeys." The report looked at the wellbeing of young transgender people in the UK and the results were worrying:
…30% of the young people questioned had suffered from depression… 30% were currently self-harming or at some point in the recent past had self-harmed…
I knew and had worked with some of these young people and it was frustrating to think that this was something happening as a result of not being accepted for who they were.
I suppose it was pure luck that during those months I began to engage with the Roundhouse, exploring my passion for the rights of transgender people – engaging first as a young person, then a tutor and most recently a member of the Roundhouse Board of Trustees. Being the youngest member on the Board was both terrifying and joyous; it felt like I was dipping my toes in the ocean waiting to be thrown in at the deep end! So I did some investigating!
In May 2012, I met with Roundhouse Producer Josephine Bamford about an exciting new project her and artist Mark Storor were considering. It was to be called "Puffball" and would feature an all LGBTQ cast of young people and circus artists. They would be a wonderful family of outcasts and they would explore themes of love and acceptance. It was too perfect. I decided to bring Puffball to the highest level of the Roundhouse and presented a video explaining what LGBTQ young people were facing everyday and why Puffball would be an important venture:
For the next year, I would work closely with Mark, Josephine Bamford and Leila Jones (Roundhouse Circus Producer) to figure out what Puffball was! We engaged with over 70 LGBTQ young people across the UK (from Cardiff, Doncaster, London and Manchester) and in October 2013 held our first six-week residential at the Roundhouse. 15 young people took part – one of the participants travelled as far as Stevenage every day to be with us and was usually the first to arrive each morning!
By 2013, Puffball had been shoe burning one afternoon in an empty car park, furniture smashing at the very centre of the Roundhouse, phoenix construction using only tin foil and diving into a bed of flour wearing only thermal underwear. Now, Puffball is a culmination of all of the work we have produced, a safe space full of love and support. In fact, Puffball is something Stephen Fry is looking forward to!
Thrilled to see such vital LGBTQ stories being explored in #Puffball created RoundhouseLDN</a> <a href="http://t.co/J0GPN2KKMz">http://t.co/J0GPN2KKMz</a> <a href="http://t.co/Ug40yTml8X">pic.twitter.com/Ug40yTml8X</a></p>&mdash; Stephen Fry (stephenfry) February 27, 2014
But most importantly, Puffball has been a hotbed of creativity for a group of strangers who have found a family onstage at the Roundhouse.
Puffball _will run from Tue 22 – Sun 27 April.