Molly's Story
Molly found the Roundhouse online back in 2015 and saw that we were auditioning for the choir. Here she talks about her experience with the Roundhouse Choir.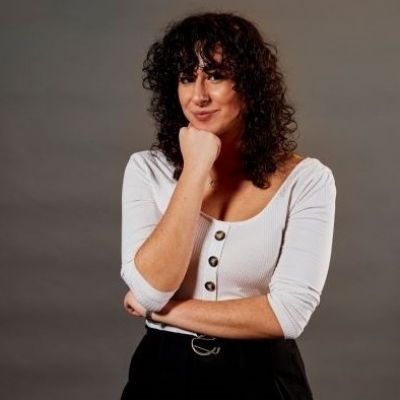 It was a choir for people aged 16-25 and I was 15 or 16 at the time, and thought 'this is fab, I'll have ages to be in the choir'. I had been singing in a choir so I was looking to get into something nearby, as I love singing and the sense of community that comes with being in a choir.
I went along to the audition and it was really chilled. I went in expecting it to be strict but Osnat (Choir Director) was in there and she made everyone feel so relaxed like we were already a part of the choir. I did my bit and got in and started pretty much straight away. That was four years ago.
Since then I've had the opportunity to perform with some incredible artists, including Jamie Cullum on Later with Jools Holland, Angelique Kidjo at On Mass and we even sang on Sam Lee's song Lovely Molly, which went on to win 'best traditional song' at the BBC Radio 2 Folk Awards.
The repertoire of songs we sing is also really diverse. We sing songs from all different cultures, which really broadens your outlook too. I never thought I'd learn a whole song in Finnish (an a cappella folk love song called Armahan Kulku) but those lyrics will be engrained in my brain forever! One of my favourite songs in our rep is Tshosholoza – a South African song with lyrics about encouragement and solidarity. It's perfect for us.
I'm now at university and my degree is in biochemistry, so nothing to do with singing at all. But I've always been interested in the creative side as well and I never wanted to lose that when I came to university. I knew a lot of my life would be focussed on the STEM side of education and I wanted to keep the singing side as well, so I stayed in the choir. To be honest the skills are quite transferrable. Singing in a choir is something that is guaranteed to develop your teamwork skills. The time I spend with everyone in rehearsals means I've gotten to know them well, and the experience of singing in harmony with this huge family of voices around you lets you connect on a deeper level. I've bonded with these people in a way that is different to every other aspect of my life. You learn to listen to each other and improve as a group.
Another skill I've developed is my confidence and the ability to use it elsewhere in my life. Since starting the choir, I have grown as a person and part of that is thanks to the amazingly supportive energy in the room I spend three hours a week singing in. Everyone is kind and builds you up without pushing you which means I've gone from being unable to sing in front of people without feeling anxious to loving being given the chance to sing a solo with these wonderful people. It's really incredible just how much this choir has changed me.
But my favourite thing about the Roundhouse Choir has got to be the community. We are open to everyone without judgement and with nothing but friendship and support which means everyone is able to open up and connect with each other.
The friends I've made during my time singing with the Roundhouse are friends I will treasure for life. Singing with them only deepens our friendship. I love how open Osnat and the team are when it comes to choosing songs – we've performed songs written by members and alumni, and even have a song that was developed by the whole choir – Stronger with You. The title and lyrics are about welcoming everyone with open arms and reflect exactly what the Roundhouse Choir is about.
This not only what the roundhouse choir is about, but it encompasses the values and ideals of the Roundhouse itself – and I'm so lucky to have found that!
We are a charity that believes in the power of creativity to transform lives.
To continue this work and reach more young people, we need your help.
Support Us