Klay's story
I'm a creative – I started as a writer but I got to a point where I wanted to connect stories with other mediums to make them make more sense. One medium won't reach everyone and I want to reach as many people as possible. My stories are about myself, about the world – I like perspective, being able to see things from a different perspective.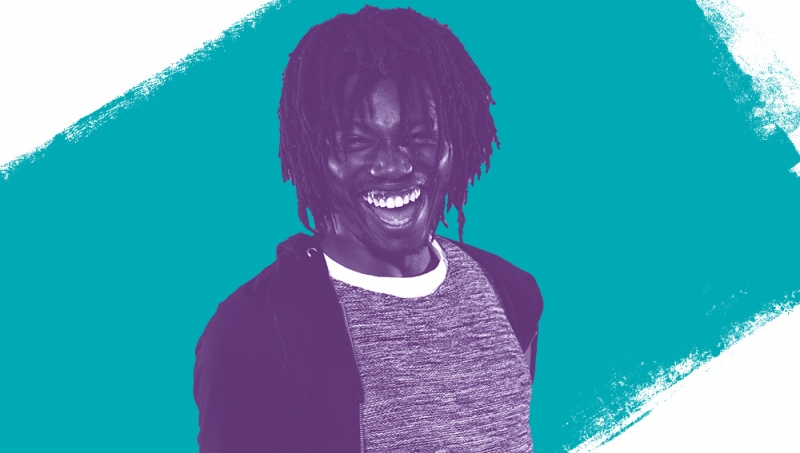 I've been coming to the Roundhouse for a bit over a year now – I was floating around; I was homeless at the time. I'd been doing music with a different charity but they were closing their music programme which was really sad. At first I thought the Roundhouse was a college so I shunned it but then I saw the studios and was pleasantly surprised.
OnTrack was the first thing I did here. You were thrown together in a room with people you've never met before, never done anything with before. It was about collaborating and building relationships – and making music. Every day was something new. At the same time they brought people in to give us an insight into the industry. There are people on the project who aren't sure what they want to do, so getting that insight is really useful.
I saw the Resident Artist application straight after OnTrack – it was a last chance for me being 25. I knew I needed to knuckle down and get onto this programme so I could make the most of my last year. I'd been going through some personal things at the time and I wasn't sure what I had to bring to the table or the industry, but I had an interview and audition and I was accepted – it was a breath of relief for me. There were times when I wasn't believing in myself but time and time again I meet people who are encouraging me and tell me to keep doing what I'm doing. Also being a space for young people to do their own thing you meet likeminded creative people who inspire you.
I remember starting at the Roundhouse and feeling incredibly lucky as a lot of friends outside of the Roundhouse had passed that age limit and it's painful that they couldn't come. Some people aren't so lucky. Hearing about the campus thing was great. Some people think when you hit 25 that's it, it's like 'you're done'. You feel like you get kicked into the world. But the campus means older people can benefit too.
In terms of my future I'd always thought I'd like to do something like this. Like the Roundhouse. I've seen how it's benefitted me and how it's benefitted others. This place is such a blessing.