The Roundhouse Trust, the charity that runs the Roundhouse, has received planning permission approval from the London Borough of Camden to develop a new building on an area of its service yard.
Since reopening in 2006, the organisation's office accommodation has been located in rented offices on Chalk Farm Road. These offices are now scheduled for redevelopment and accordingly the Roundhouse needs to find a new home for the majority of its employees.
The new office building will, for the first time, accommodate all Roundhouse staff in one location, expand our production capability and improve site security.
Crucially, it will allow the organisation to further develop its artistic and charitable activities and expand its programme of traineeships and apprenticeships for young people.
the scheme
Working with Urban Space Management (USM), we have designed a building constructed from 71 up-cycled shipping containers. It will be glazed on three sides with glass balconies facing the Roundhouse and the railway line.
Given the nature of the design, it is inherently sustainable, both in construction and operation. The scheme incorporates further sustainable elements such as solar panels on the roof and recycled sections from previous USM projects, including the Olympic Broadcast Studios for London 2012.

Location
When the Roundhouse re-opened in 2006 following its redevelopment, there was always an intention to extend its facilities within the service yard to the west of the venue. The new building will be positioned in this location (adjacent to the Circa Apartments) with a section flown over the Roundhouse's vehicle access route.
The development will comprise four storeys assembled on top of a row of storage containers. The retaining wall around the site, the perimeter fencing and the security gate arrangements will all be redeveloped making a positive impact on the Roundhouse's setting.
Schedule
With input from our engineers, we established an approach to these works which capitalised on the existing infrastructure in the yard in order to minimise works wherever possible. As part of this all of the containers were pre-fabricated off site before being installed into their correct position in the yard.
Off-site pre-fabrication of the reception lobby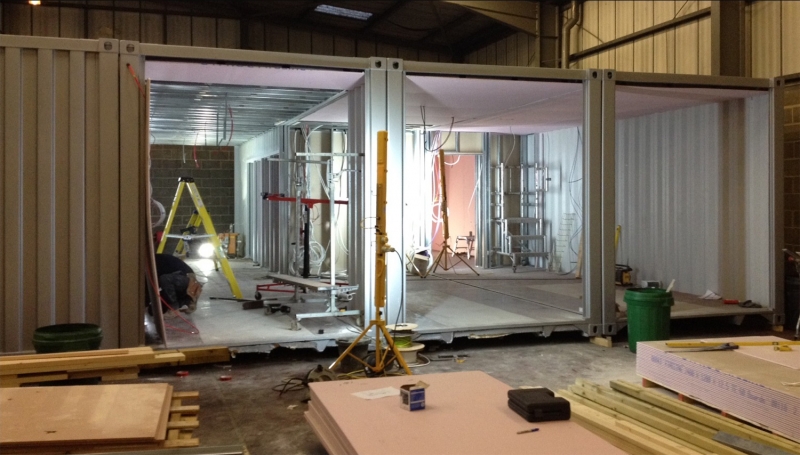 The construction site was established in early January, with the engineering package of works including ground works and piling completing in mid-February. Containers were then delivered one floor at a time starting at the end of February in order to be installed in their correct position on site.
Ground floor and level one of the new building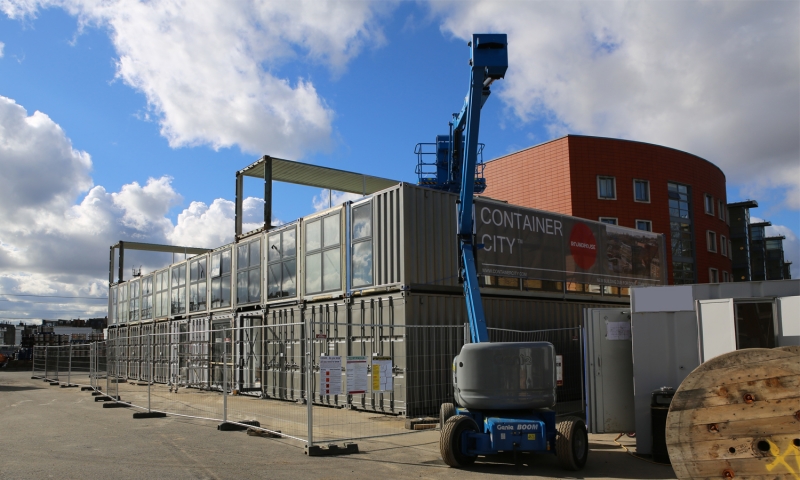 The last set of containers were delivered and positioned in April and then the focus of the work moved to the interior of the building. Final touches to the building are currently being implemented and the Roundhouse staff look forward to moving into their new home in July!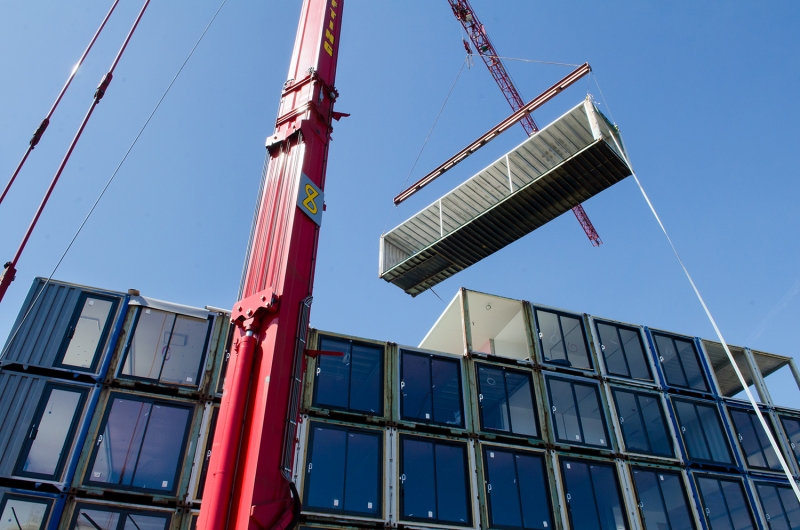 Image © Ellie Pinney
Information and Feedback
If you would like more information about the scheme:
Write to Office Building Project, Operations Dept., Roundhouse, London NW1 8EH