An update on our anti-racism commitments
By Marcus Davey, CEO and Artistic Director
Six months ago we set out our anti-racism commitments and today we're sharing our progress on these with you. Below we've given a short update on each commitment but I also want to talk about some of my key learnings from our work here so far.
One of the most important learnings I have taken from this process is that we need to start at the top. Our role as leaders, gatekeepers of this organisation, and the power and influence that comes with that, not just at the Roundhouse but across the sector, means we need to ensure we are using and leveraging our power in the right way. As part of the work we have been doing at the Roundhouse, the leadership team have embarked on a race equity training programme, which we are halfway through. It's both insightful and challenging, inspiring and at times difficult, but a necessary piece of work to ensure we build a fully inclusive organisation. In the last session I was able to share and interrogate some of my reflections about my own white privilege and committed to continue to look deeply into how it is manifesting itself in my life and into what I observe in the wider world and at work.
This programme is essential in being able to speak truthfully about who we are and how we can change the narrative in our society about race and privilege. There is much to do and I feel passionate about making the changes in my life and developing learning within the Roundhouse.
Our anti-racist commitments
1. Publish our staff data and aim for a workforce that's representative of London by 2023
Over the course of the last six months the Roundhouse has had to restructure due to the impact of Covid-19 and unfortunately we had to make nearly 50 redundancies across our workforce. In addition to this, as with any normal year, a number of other staff have also moved on to new positions in other organisations. As a consequence of this reduction in staff levels, the percentage of Black staff members has dropped by 1% and we no longer have any Asian staff working at the Roundhouse which we will address. We're still committed to achieving our workforce targets by 2023 and over the next few months we'll be developing our recruitment strategies as set out in commitment 3.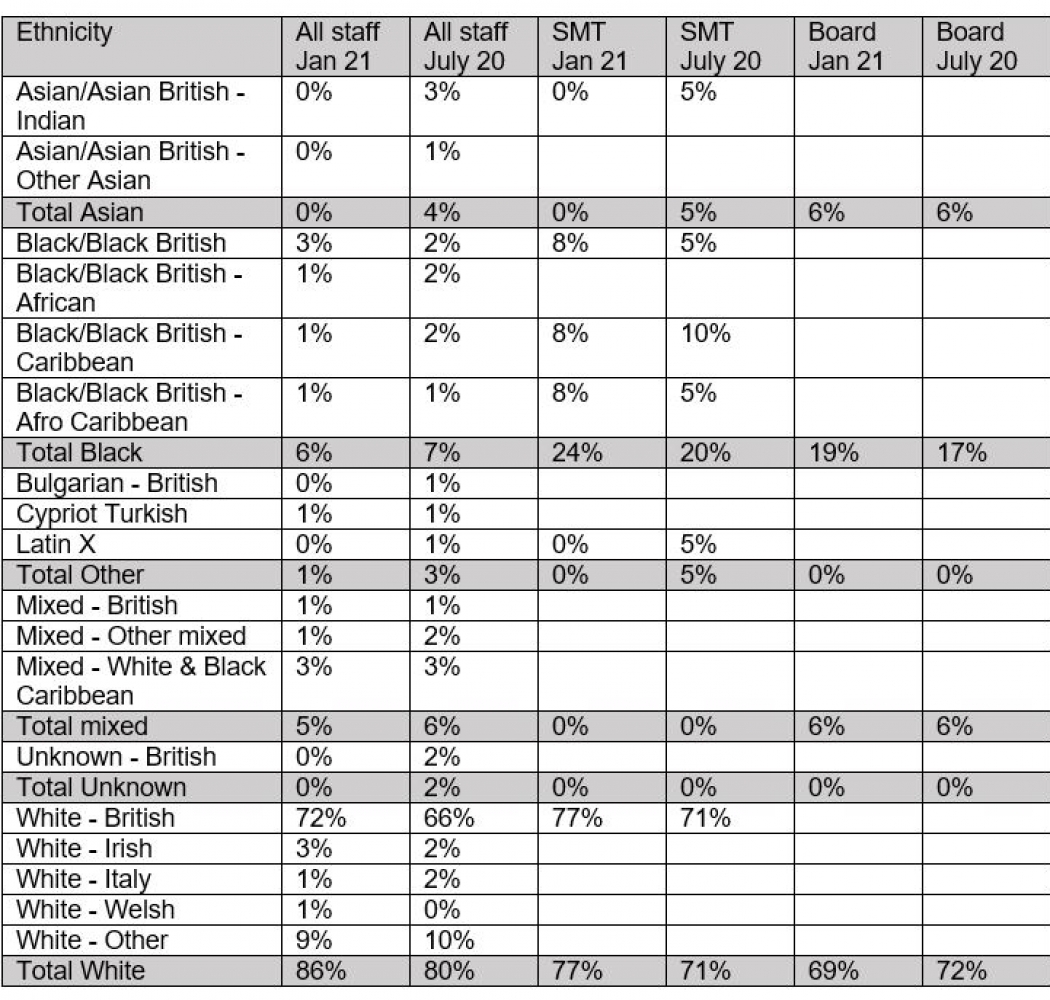 Staff numbers in Feb 2021 are 75 permanent including 13 SMT
SMT (Senior Management Team)
Some totals are over 100 due to rounding
These are not the only options available for staff and trustees – but these are the only ones where we have representation across the workforce. Our Trustee data is grouped as this is what we have available at this time
2. Publish our Ethnicity Pay Gap
We'll publish our Ethnicity Pay Gap in April along with our Gender Pay Gap – this comes at the end of each financial year.
3. Review recruitment strategy and progression routes
Whilst we are not in a position to recruit on any scale we are reviewing our entire recruitment strategy which will be in place by the beginning of April.
4. Roll out a series of anti-racism training for all staff
Our senior leadership team are embarking on a five-month race equity programme due for completion at the end of March. We will roll out wider staff training from April and will share more about this work at our next Driving Change event.
5. Start a new network for Black colleagues
We have set up a Black Workers Forum which is a voluntary and confidential space for Black staff members. The primary objective of this forum is not to serve the Roundhouse, but to be a safe, confidential space for members' discussion.
6. Bring the diversity of our commercial music programme in line with our produced programme of work
We've appointed an Associate Producer to support us with this commitment and we're holding our first roundtable with promoters of Black music on 5 February. If you're a promoter working with Black music and want more information on this email lucy.wood@roundhouse.org.uk.
7. Continue to amplify underrepresented voices through the work we produce and present
We continue to deliver our Round Your House online programme which continues to profile a diverse range of voices and explore themes of identity and inclusion. We also held our annual Roundhouse Poetry Slam Final, including three heats, where 30 emerging poets from across the UK took to the stage to talk about the issues important to them. Poetry is an important and accessible art form for young people to express their views and many of the poets used the platform to talk about cultural identity and how this impacts their lived experiences. You can watch it again here.
8. Create diverse leadership profiles to share on with young people wanting to work in our sector
We've done some internal work to profile our trustees to staff but we haven't started on our external leadership profiles. As we build back the organisation we are committed to connecting our programme of work with young people and the wider workforce to support and develop young diverse talent moving into the industry by seeing people that look and sound like them.
9. We will use our Driving Change event to make a change in the sector
Today we're announcing the next in our Driving Change series which is supported by Bloomberg Philanthropies. The free event will be held on Tuesday 23 March and will centre on leadership through the lenses of race and disability. There will be opportunities to listen, learn and leave with practical ideas about how you can make a change in the spaces you lead. Find out more and register here.
10. Ensure suppliers and contractors adhere to our diversity and inclusion values
We are writing our values and diversity and inclusion policy for suppliers and contractors, along with doing further monitoring of groups, as mentioned in point 6. One example of how we have put this commitment into practice is that in the pre-questionnaire that we've sent to contractors who are pitching to build our Roundhouse Campus, a new section on their diversity and inclusion values and policies was added, these answers will be taken into consideration when we decide who to take through to the next stage.
Alongside the points above we have also reviewed our organisational values and developed an inclusive language guide, which our staff team said was something they would find helpful, and we've re-assessed our harassment and bullying policies to ensure they're accessible and staff feel empowered to use them.
In addition to our focussed work on race over the last six months we are also re-focussing our strategy for d/Deaf, disabled or neurodivergent people as we know we have more to do here.
Given where we find ourselves after this global pandemic, we're in the process of refreshing our business plan so that it's relevant to where we are now, and the direction of travel we want to go in. We'll embed further commitments into the business plan which we will share in our next update in six months.