Due to a huge demand for tickets, a second night for The Cult will now take place at the Roundhouse.
The Cult's life blood has always been playing live, we are between albums and decided to continue the momentum created by Choice Of Weapon, stay in people's hearts and minds. As Love Live was such an incredible experience we have decided that performing the Electric album, an event that has been demanded by our fans and followers as the perfect live set to play in 2013
Born out of the ashes of the UK post-punk scene, The Cult evolved to become one of the most influential and controversial rock bands of the late 20th century, selling millions of albums, headlining venues worldwide, infusing innovative possibilities into the worlds of music, art and fashion and quickly ascending through the ranks of the indie music world to achieve global status.
In 1987, The Cult released Electric, an album of stylistic change that aimed the band straight at the heart of the rock market. Recorded in New York City at the legendary Electric Ladyland studios and filled with the energy of the dirty NYC streets, together with a young producer named Rick Rubin, who resonated more with the hip hop world of The Beastie Boys, Run DMC, and Public Enemy; the band delivered a recording that has gone on to become one of The Cult's most successful and influential albums, and as a follow up to Love, kicked the door wide open to a passionate new audience. Electric went on to become the band's first Platinum album.
The Cult will perform Electric, raw and unfiltered on tour in 2013, an event branded as ELECTRIC 13. This will be a hot ticket as The Cult have never performed the album in its entirety. The live show will also include a second set pulling from the band's eight other studio albums.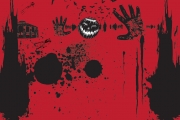 Welcome to our spine-tingling Halloween scare-fest… Nightmare… a weekend of hair-raising live music, tricks and treats.
Essential Info
Doors: 7pm
Age restrictions: Under 16s to be accompanied by an adult, under 14s to be accompanied and in seated areas only.