Paradise Lost are set to embark on a 25th anniversary tour with special guests Lacuna Coil.
With a career dating back to 1988, and their official recording debut in 1990 (Lost Paradise), Paradise Lost has been riding a rollercoaster of highs and lows.
Over their following career, Paradise Lost have not only created and defined genres and styles, but almost immediately transcended them. From the crawling, harrowing doom of their 1990 debut Lost Paradise, to the electronic flourishes prevalent in 1997's One Second, 1999's Host and 2007's comeback to the heavier side of metal In Requiem and the latest opus Tragic Idol in 2012, their sound has continued to evolve vastly, but haunting melody and dark rock power has remained at the very core of their identity.
Now it's time to celebrate 25 years of glamour and gloom – Nick Holmes (lead vocals) had this to say about the forthcoming anniversary shows:
25 years IS a long time, on the surface we may look ramshackled, but playing music for so many years has kept us young in our hearts and I truly believe that a youthful spirit is one of the greatest things you can't buy in a pub. We have written many albums, played many concerts; we are older and not really any wiser, but there is a strong possibility we may play a song you thought we never would. So please come along and join the celebrations with us, including our biggest UK headline show to date!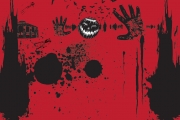 Welcome to our spine-tingling Halloween scare-fest… Nightmare… a weekend of hair-raising live music, tricks and treats.
Essential Info
Latecomers will be admitted throughout.
Doors: 6pm
Age restrictions: Under 16s to be accompanied by an adult, under 14s to be accompanied and in seated areas only.