Resident artist Koko Brown presents a work-in-progress performance of her new show WHITE.
"Where are you from?" "London." "Right, but where are you really from?"
WHITE is a show about identity which blends spoken-word with live vocal looping. Join Koko as she considers the concept of mixed-race privilege, tries to connect clashing cultures and explores what it means to be mixed in contemporary Britain. What are you when you are always the other?
#WHITEplay
About Koko Brown:
Koko is a multidisciplinary artist who blends theatre, spoken word and live vocal looping. She takes pride in her roots and creates work about being the 'other', mainly focusing on race, mental health, gender, and identity. She is currently a Resident Artist at the Roundhouse and an Associate Artist at Ovalhouse theatre. Connect with her via heykoko.com or on all social media – @TheKokoBrown
Our Resident Artist Programme offers support and opportunities for emerging artists aged 18-25 to transition from our Creative Programme into the creative industries.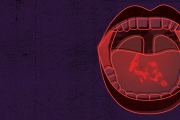 The Last Word festival is home to a captivating mix of live performances that all have a story to tell. Featuring new work by established artists, rising talents and works-in-progress from home-g…
Essential Info
Age restrictions: not suitable for children. Children may attend if accompanied, at the adult's discretion.
Latecomers will be admitted at a suitable break in the performance.
Running time: approx. 1 hour
*Fees are £1.95 per transaction